Which
Ergonomic practice

works best for your workplace?
Which population do you think suffers from
lower back pain

the most? Google "age group with the highest count of lower back pain in India".

These are the age groups highlighted by various studies carried out in our country.
Go ahead. See for yourself.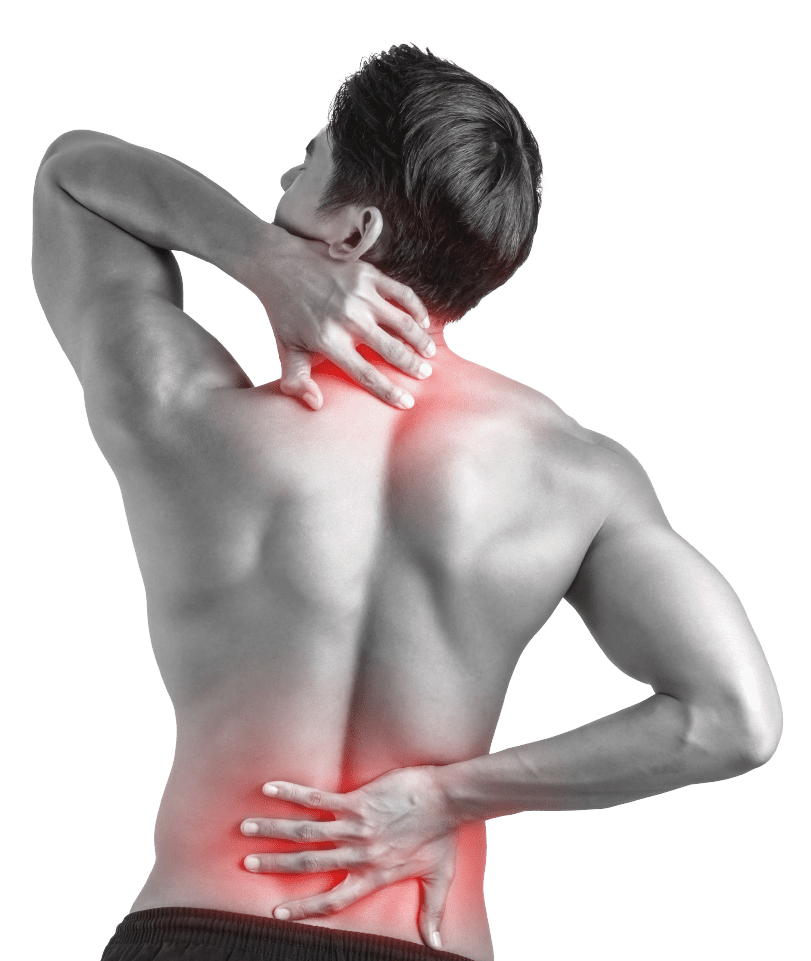 Let's talk study
Researchers from the School of Physiotherapy, D.Y. Patil University, Navi Mumbai, India, conducted an epidemiology study to explore an association between sitting and standing working postures and low back pain. The study method was a cross-sectional survey carried out among 30-60-year-old working professionals with occupations involving mostly sitting or standing. A pre-validated self-administered questionnaire was used as the survey tool.
See the conclusion in Figure 1.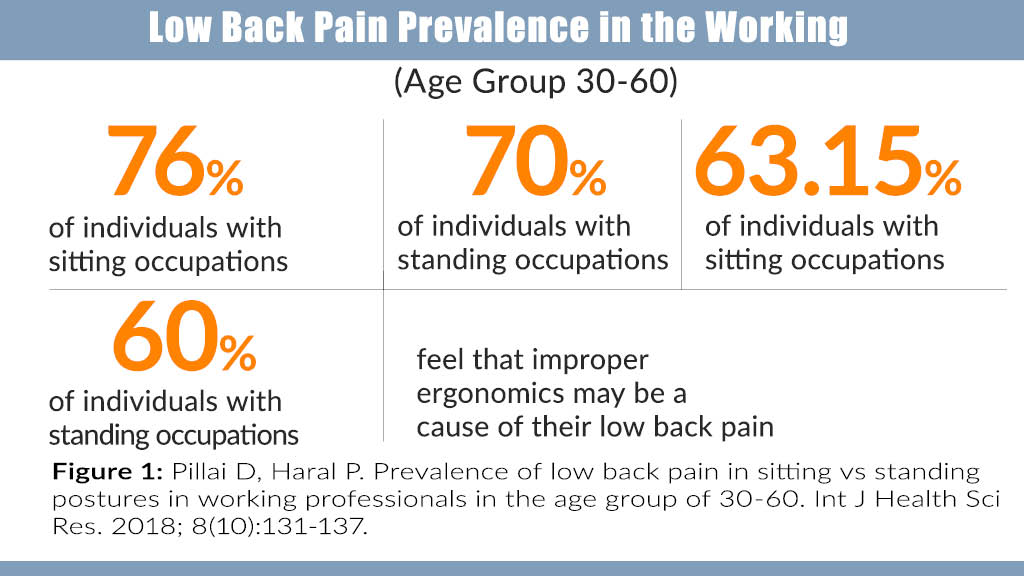 Another group of researchers assessed the prevalence, pain intensity, and quality of life (QOL) associated with lower back pain (LBP) among adult populations of 18-65 years belonging to different strata of the community in northern India. The measurements of choice were as below:
Lifetime Prevalence of Chronic LBP
The proportion of the recruited population who have ever had an episode of LBP
One-Year Prevalence
The proportion of the recruited population that ever had suffered episodes of LBP in the prior 1 year of the time of assessment.
Point Prevalence of Chronic LBP
The proportion of the recruited population that was suffering from LBP at the time of assessment.
Chronic Prevalence
The proportion of the recruited population whose LBP episode persisted continually for 12 weeks or more.
Figure 2 shows the results of this study.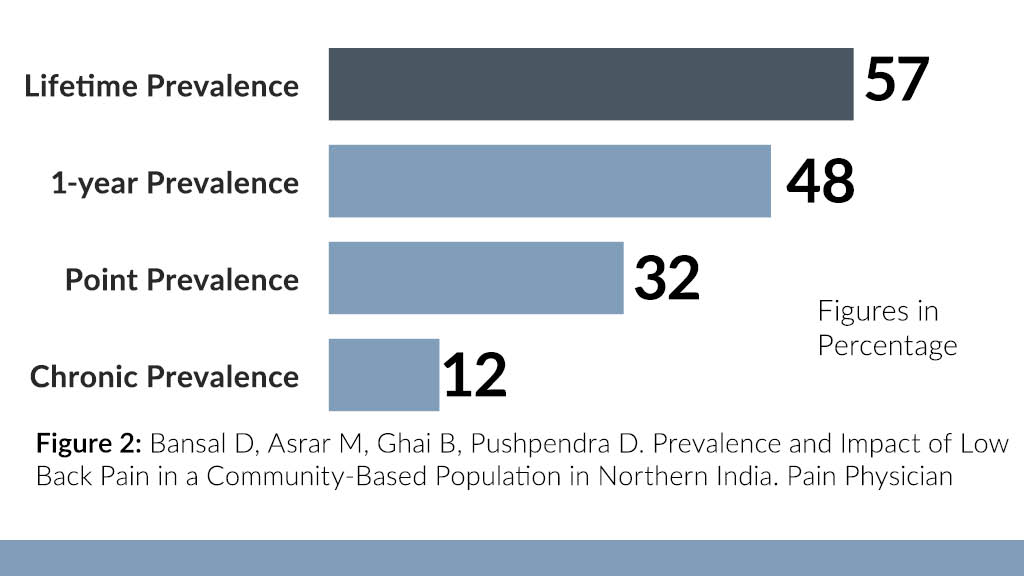 So, what does that say about back pain? It's not only prevalent across various adult age groups but also associated with those whose occupation demands long sitting or standing hours. In this piece, we are only focusing on corporate professionals as back pain in athletes and fitness enthusiasts is an extensive topic in its own right. It will be featured in another edition.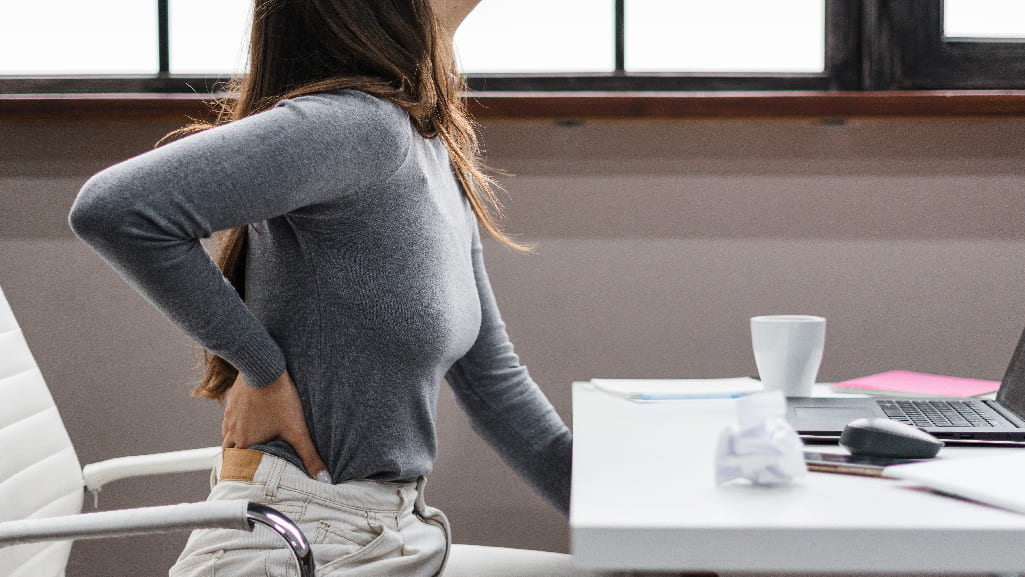 Back Pain
Let's look at your symptoms:
Are you in the

age group of 20-60?

Do you get

neck pain?

How about a

shooting, radiating pain

around the spine in your lumbar area?
Sometimes in the

shoulder, arms, or leg?
A few of our corporate clients wanted to respond to such complaints from their employees. So, they approached the RxDx Physiotherapy Department to investigate this. Our team conducted an Ergonomic Evaluation assessment in the workstations to look for a pattern. Guess what were the findings?
Most seating and standing arrangements were not correct. The desk height, computer view, and non-stop sitting or standing without breaks for hours, all these things were noted by our team.
The physiotherapists guided employees on improving their posture and corrective exercises. These exercises include muscular tension easing activities and positional release or workstation stretches.
Ergonomic Evaluation
So, what is Ergonomic Evaluation?
It's an assessment of employees and their workstations to ensure correct working postures and workstation set-up.
A good ergonomic assessment is done to reduce a worker's exposure to physical hazards such as:
Uncomfortable postures
Repetitive tasks
Straining of the body
Reference: https://www.rehabmanagement.com.au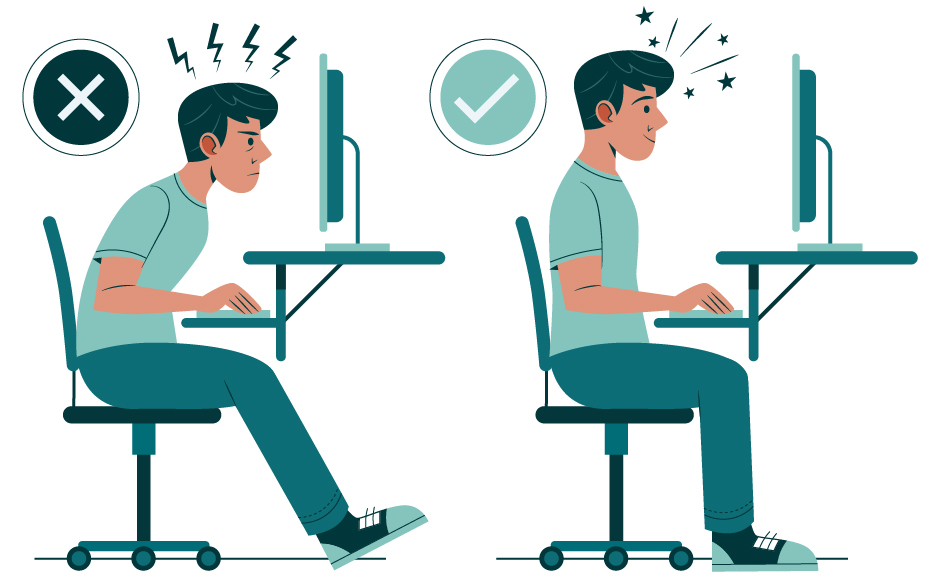 The above pictures project a few expected consequences of incorrect ergonomics ranging from neck pain to even joint pains. Long-term effects of incorrect workstation ergonomics may include but not be limited to rounded shoulder, upper cross syndrome, rotator cuff injuries, tendinitis, carpal tunnel syndrome, trigger finger, trapezitis, epicondylitis, muscle strains, lower back pain, repetitive stress syndrome (RSI), spinal dysfunction, joint degeneration, sciatica, herniated disc, wallet neuritis.
Avoiding the Avoidable
Incorrect ergonomics can affect your work life and personal life.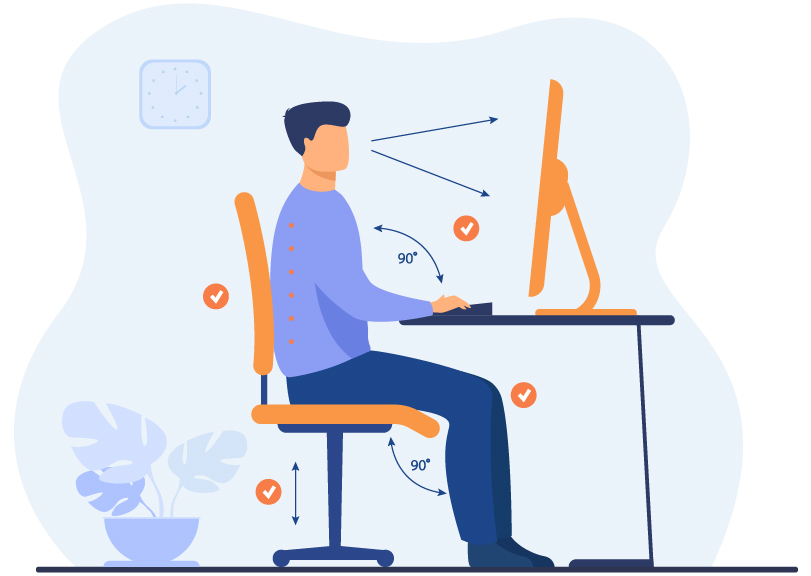 The pain in your body can stress your mind, affecting your work performance and your family engagements. Imagine missing out on your sibling's or kid's birthday party because you have terrible back pain and don't want to mingle with guests. Or that office meeting you had to leave mid-way with a killer neck pain.
So, what do you do if your pain isn't going away in a day or two?
Talk to a professional.
A physiotherapist can evaluate your workstation ergonomics and guide you on posture and workstation improvements. As we have all been told in school, Prevention is better than cure.' Cliches are cliches for a reason.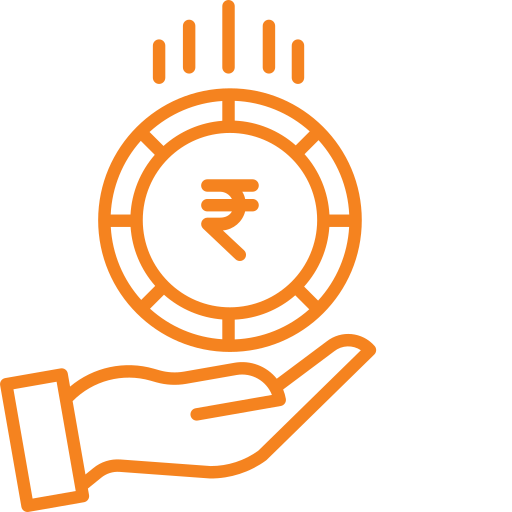 Think Long-term. Think big picture. Companies who invest in improving workstations can have a cost reduction in terms of healthcare, especially if the jobs involve a corporate health plan.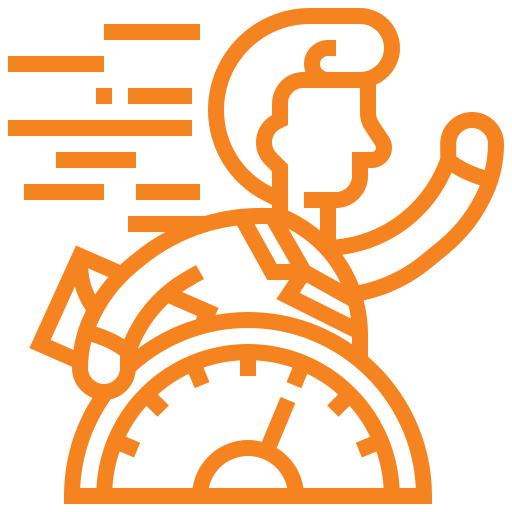 Improves productivity as an employee is not under perpetual discomfort, developing constant irritability.
Employees appreciate the safety measures taken by their employers. The investment in workstation assessment brings an ROI of more loyal and engaging employees.
In simple words, the right ergonomic means better work quality and happy employees.
Want to have a workstation evaluation done? Or just curious about the Ergonomics Equation or the NIOSH Lifting Equation?
Google it.
Or talk to our physiotherapists. If you want a professional's expert take on ergonomic evaluation, of course.