HydraFacial Subscription Models
EMI options available through RxDx's Fintech Partners
Note:
Package sittings must be completed within 3, 6, or 12 months
1 month grace period is allowed, subject to clinic/department discretion
Hydrafacial sessions can be shared among friends and relatives but a voucher in physical copy must be shown at the time of redeeming the service
All you need to know about
Hydrafacial Treatment


RxDx CHANDY, Siddapura
Unlock the Secret to Youthful, Radiant, Naturally Glowing Skin!
Tired of wasting time and money on countless skincare products in search of that elusive, youthful glow? Look no further!
Find the latest non-invasive, rejuvenating skincare treatment option at our Skin & Hair Clinic by RxDx CHANDY, Siddapura.
In association with Senior Dermatologist Dr Rashmi Manjunath, presenting Hydrafacial, a popular and highly effective option that helps improve the overall health and appearance of your skin. Read on to learn more about the benefits.
Request For Call Back: Hydrafacial Enquiry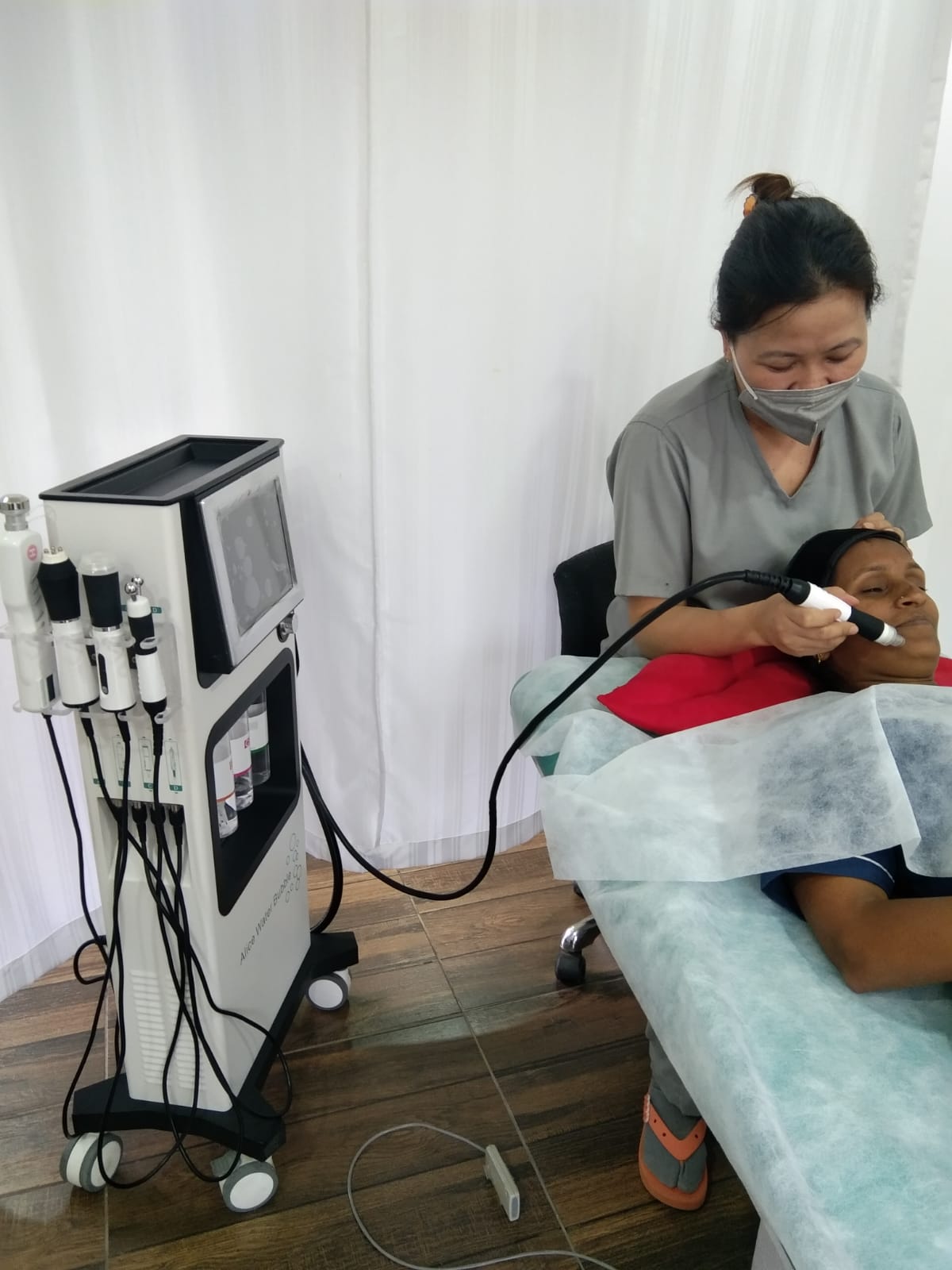 HydraFacial at RxDx CHANDY, Siddapura
Imagine a facial treatment that delivers remarkable, long-lasting results, leaving your skin smooth, radiant, and irresistibly youthful.
You desire that too but haven't found the satisfaction yet. Now your wait is over.
Go for HydraFacial, a cutting-edge transformative method of giving you instantly smoother, more radiant skin by practising the Exfoliation-Extraction-Hydration technique using the latest technology and high-quality skincare products.


Medical-grade, multi-step treatment



Uses a combination of water and serums to remove dead skin cells, unclog pores, and infuse your skin with nutrients



Immediate results, leaving you with a healthy, glowing complexion
Benefits of a Hydrafacial
Some of the remarkable effects of Hydrafacial are:


Improved skin texture and tone



Reduction of fine lines and wrinkles



Increased hydration and moisture



Minimized appearance of pores



Improved overall skin health
The procedure is suitable for all skin types.
Have a particular thought on your mind regarding your skin condition, the hydrafacial procedure, sitting prices, or anything else related to this particular service?
Fill out the enquiry form to receive a call back.
The HydraFacial
Experience
The Hydrafacial is a quick and painless treatment that typically takes 30-45 minutes to complete. During the procedure, one of our experienced dermatologists will use a small device to gently exfoliate your skin, removing impurities and dead skin cells. They will then infuse your skin with a customized serum to hydrate and nourish your skin. After the procedure, you can resume your regular activities immediately, and there is no downtime or recovery period required.
Step 1: Cleansing and Exfoliation
We start by deeply cleansing your skin and gently exfoliating away dead cells and impurities, revealing a fresh, radiant complexion.
Step 2: Acid Peel
Next, we use a customised blend of glycolic and salicylic acid peel to gently remove any remaining dirt and debris from your skin leaving the surface rejuvenated and revitalized.
Step 3: Extraction
Our state-of-the-art vortex suction technology is used to painlessly extract blackheads, whiteheads, and other impurities, leaving your pores unclogged and your skin clear.
Step 4: Hydration
We replenish your skin with a nourishing serum infused with antioxidants, peptides, and hyaluronic acid. The hydration step brings a hydrated, plump, and refreshed feeling to your skin.
Step 5: Protection
Finally, we apply a protective moisturizer and SPF to shield your skin from environmental damage and keep it looking youthful and radiant.
Recommended frequency for HydraFacial treatments
While the immediate results of a HydraFacial leave your skin looking dewy and radiant, it's important to note that this treatment is designed for long-term skin improvement, rather than a quick fix. Fortunately, the effects of HydraFacial are more long-lasting compared to other facials. Dermatologists and skincare experts recommend scheduling a HydraFacial treatment every six to eight weeks to maintain optimal results and continually enhance your skin's appearance. By following this regular interval, you can experience the full benefits of HydraFacial and enjoy consistently rejuvenated and revitalized skin.
Harnessing the Power of Technology for Stunning Results
HydraFacial combines advanced technologies to deliver exceptional results. Experience the rejuvenating power of cleansing, exfoliation, extraction, hydration, and infusion all in one treatment. Witness the astonishing transformation as your skin becomes brighter, firmer, and flawlessly even.
Suitable for All Skin Types
No matter your skin type or concerns, HydraFacial is designed to cater to everyone. Whether you battle oily skin, dryness, uneven tone, or hyperpigmentation, our skilled skincare professionals will customize each treatment to address your specific needs, ensuring remarkable and personalized results.
No Downtime, Just Radiant Skin
Don't let downtime hold you back. HydraFacial is a non-invasive procedure that requires minimal recovery time. You can resume your daily activities with renewed confidence and a rejuvenated, glowing complexion, right after the treatment.
Our dermatologist-led team is here to address your specific skincare concerns. Whether you're looking to reduce fine lines and wrinkles, improve skin texture and tone, or simply enjoy a relaxing, rejuvenating treatment, we can help.
Book HydraFacial for yourself or Gift it to someone special
HydraFacial simplifies your skincare routine, eliminating the need for multiple products and time-consuming steps. Say goodbye to complicated skincare regimens. Get HydraFacial treatment at the advanced Skin and Hair Care Clinic, RxDx CHANDY.
Book your Hydrafacial appointment today and experience the incredible benefits of this amazing skincare treatment.
Unleash the Beauty Within
HydraFacial's long-lasting benefits extend beyond the immediate results. Intensive HydraFacial sessions promote ongoing skin health, resilience, and protection against environmental damage for up to 6 to 8 weeks. Let your skin's natural potential shine through with hydrafacial's rejuvenating and revitalizing effects.
Taking Care of yourself after HydraFacial
Maintaining the results achieved after a HydraFacial treatment requires consistent skincare practices and a healthy lifestyle. Here are some tips for maintaining the appearance of your skin following a HydraFacial:
Follow a Daily Skincare Routine: Cleanse your skin twice a day with a gentle cleanser suitable for your skin type. Apply a moisturizer to keep your skin hydrated and use a broad-spectrum sunscreen with at least SPF 30 to protect against harmful UV rays.
Stay Hydrated: Drink an adequate amount of water daily to keep your skin hydrated from within. Proper hydration helps maintain the elasticity and overall health of your skin.
Avoid Harsh Products: Refrain from using harsh skincare products, such as abrasive scrubs or strong chemical peels, as they can irritate and damage your skin. Stick to gentle and non-irritating products recommended by your skincare professional.
Protect Your Skin: Wear a wide-brimmed hat, sunglasses, and protective clothing when exposed to the sun. Limit your sun exposure, especially during peak hours, and reapply sunscreen every two hours.
Maintain a Healthy Lifestyle: Adopt a balanced diet rich in fruits, vegetables, and antioxidants, as they can promote skin health. Get regular exercise, manage stress levels, and prioritize adequate sleep to support overall well-being, which can reflect on your skin.
Consider Follow-up Treatments: Depending on your skincare goals, you may benefit from periodic HydraFacial treatments to maintain the results. Consult with your skincare professional to determine the appropriate treatment frequency for your skin.
 Remember to consult with a dermatologist for personalized advice tailored to your skin type and concerns. By incorporating these tips into your routine, you can help sustain the benefits and keep your skin looking refreshed and healthy after a HydraFacial treatment.
Hydra Facial vs. Regular Facial Comparison
👉 When it comes to comparing Hydra Facial with a Regular Facial, there are notable differences in their approach and effectiveness.
👉 Regular facials, follow traditional methods of enhancing skin health. On the other hand, Hydra Facial employs advanced technology where a specialized machine deeply cleanses the skin, providing an immediate radiant appearance.
👉 HydraFacial can be safely administered in medical clinics without any side effects. In contrast, regular facials employ chemical products that can potentially trigger acne, pimples, and other skin issues through adverse reactions.
👉 The results obtained from regular facials tend to be subpar, while HydraFacial rejuvenates the skin without causing any discomfort during or after the procedure.
👉 For pregnant women, HydraFacial is the ideal choice since chemical procedures should be avoided to prevent any potential harm to the baby.
👉 HydraFacial offers personalized treatment based on the individual's skin type and condition.
👉 The outcomes of Hydra Facial surpass those of regular facials, offering instant and superior results. Therefore, when it comes to choosing between Hydra Facial and Regular Facial, the clear winner is the former.
Side effects
HydraFacial treatment involves the use of a mechanized wand to deliver customized serums into the skin, providing desired outcomes. This non-invasive procedure is typically completed in under 60 minutes.  While the HydraFacial treatment has numerous advantages, there is a possibility of experiencing minimal side effects. Unlike other cosmetic procedures, this procedure is not intended to cause pain or redness. However, some temporary redness may occur due to the slight pressure exerted by the wand during the treatment. This redness is typically minor and resolves on its own, representing the primary side effect of the HydraFacial treatment.
It is important to note that if you have an active rash, such as one caused by a rosacea flare-up, it is advisable to refrain from undergoing this treatment. In extremely rare cases, the serums or other products used during the HydraFacial procedure may trigger an allergic reaction in patients. To avoid such occurrences, it is recommended to search for a reputable clinic nearby and select an experienced dermatologist to perform the procedure.
Given the minimal occurrence of side effects from HydraFacial, you can effectively prevent any potential irritation or complications by ensuring proper post-treatment care for your skin. In the section below, we offer some guidelines to follow after undergoing a HydraFacial treatment in order to maintain optimal skin health.