CT Scan at RxDx Whitefield
This is a 16 Multislice (Multidetector) Computed Tomography machine that provides high-speed high-resolution 3D imaging. It's enabled with low dose radiation versatile tech and can detect a wide variety of conditions. Non-invasive in nature, a CT scan can be recommended by a cardiologist or a vascular surgeon when the patient is suspected to have an aortic aneurysm or dissection, renovascular hypertension, mesenteric ischaemia, peripheral vascular disease, suspected cerebral aneurysm, cerebral vascular insufficiency, trauma, etc. CT scan is capable of detecting stenosis, blockage, aneurysm, thromboembolism (e.g., pulmonary). A CT urogram may be recommended by Urologists to detect kidney stones. The size and density of calculi can be measured to decide on lithotripsy. Neurological, abdominal, and thoracic CT scans are also recommended by doctors, depending on the system, organ, or condition suspected.
Need a CT scan?
Benefits of getting CT scan at RxDx Whitefield
High-speed
High-resolution
Top-notch quality 3D imaging
Very low radiation exposure
Affordably priced CT scan
An efficient panel of specialized radiologists
Fast, automated, and efficient post-processing phase
An online digital record of the scan for personal reference & second opinion
Computer tomography is a diagnostic procedure that combines a series of X-ray images taken in the form of cross-sectional slices through the soft tissues, bones and blood vessels inside your body. This scanning method is quick and painless and provides the radiologist with high-quality images.
Various types of CT scans performed at RxDx Whitefield includes below, but are not limited to:
CT 3D MAX/FAC (maxillofacial) (with / without contrast)
CT abdomen (plain, contrast)
CT abdomen and pelvis (plain, contrast)
CT Aortagram
CT brain (plain / contrast / with or without orbit / angiogram); brain perfusion; cerebral venogram with contrast
CT brain with PNS (with / without contrast)
CT cardiac, (paediatric, plain / contrast)
CT cervical spine (with / without contrast)
CT cervico-thoracic spine
CT chest (plain / contrast)
CT chest HRCT (plain/ contrast)
CT chest (pulmonary embolism, DVT)
CT colonography
CT colonoscopy
CT dental X-ray
CT extremities (with / without contrast)
CT FNAC / biopsy
CT guided biopsy
CT head and neck angiogram
CT hepatic angiogram
CT of kidneys, ureters and bladder (CT-KUB) (plain / contrast)
CT liver (Triple phase liver CT protocol or abdominal and pelvis 3 PH liver)
CT LS spine (lumbosacral spine) with / without contrast
CT neck (plain / contrast)
CT scan pelvis (plain / contrast)
CT peripheral angiogram
CT PNS or paranasal sinus (with or without contrast)
CT renal angiogram
CT temporal bone
CT thoracic aorta
CT thoracic spine (with / without contrast)
CT thoraco-lumbar spine
CT whole spine screening
CT orbit (plain / contrast)
CT Angiograms
These scans assist radiologists in the detection of internal injuries, bleeding, stroke, and acute conditions of the abdomen such as appendicitis, tumour growth and to monitor the effectiveness of cancer treatment. Angiography may also reveal atherosclerosis, peripheral arterial disease, brain aneurysm, angina, pulmonary embolism, blockage in renal blood supply.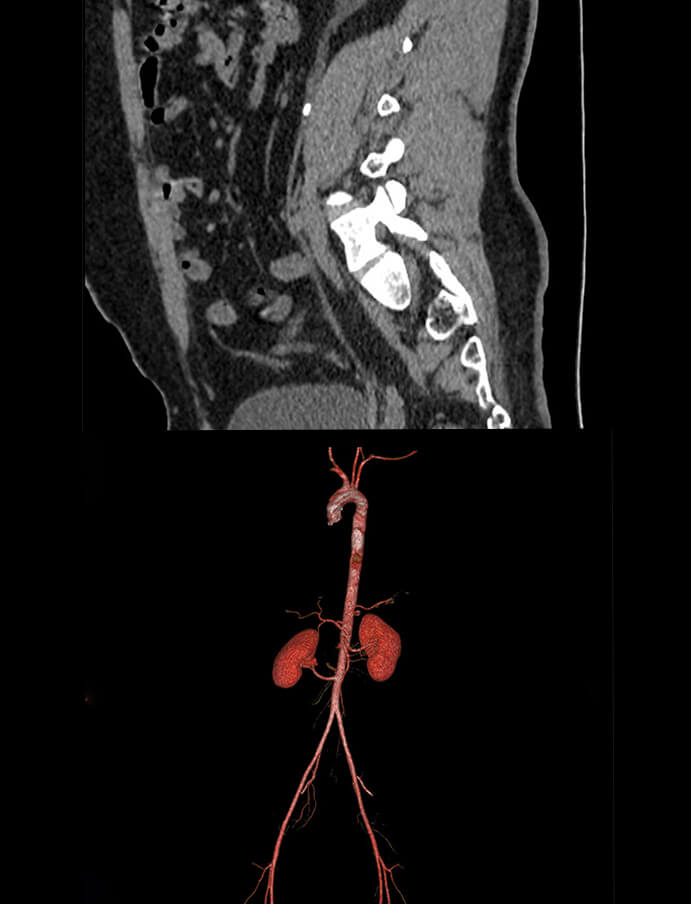 CT scans are of much higher resolution. Compared to X-rays, they provide more detailed information to radiologists. As a result, CT is a more reliable tool in making a clear diagnosis.
A quick procedure, CT scan relatively involves a much lower exposure to radiation. This method also provides radiologists with high-quality images that reveal the smallest of abnormalities
Pregnancy. As the fetus is highly sensitive to radiation. Please be sure to inform the imaging center staff if you are pregnant.
A history of a prior allergic reaction to intravenous contrast dye. This demands caution to avoid a repeat episode. An antihistamine medication is recommended before the procedure to prevent a reaction.
What involves the CT scan process?
♦ CT scans are usually performed at a hospital or imaging centre.
♦ You may be instructed not to eat or drink for a few hours before the procedure.
♦ During the procedure, you will be asked to wear the hospital gown and remove any metal objects such as jewellery.
♦ The procedure will require you to lie on a table inside a large, doughnut-shaped CT machine.
♦ As the table slowly moves inside the scanning machine multiple X-rays rotate around your body, you may hear a whirring or buzzing noise.
♦ You will be instructed to refrain from making any movement as it can blur the image. You may need to hold your breath at times.
♦ The duration of the scan depends on the part of the body being scanned. It can take anywhere from a few minutes to a half-hour. In most cases, you'll go home the same day.
Have more questions regarding CT scan?