Does the thought of patient care Motivate you?
Are you up to the challenge of adapting to a dynamic and highly energetic environment that brings you moral satisfaction of helping people receive medical support?
Then you are the right person for us.
RxDx is committed to patient care. We believe in serving our beneficiaries with complete integrity and passion. Compassionate care is our motto. No matter the background, status, education, experience you bring, your ability to stay true to our cause is the secret to make us gel.
Apply for any of our open positions or share your resume with us. Let us know which field/department/position interests you, and why you think you should be working with us.
Scroll down to check our open positions and apply if you find something suitable to your aspirations.
Tell us where you think you are the best fit
Position for Healthcare Professionals
Consultant Dermatologist
Qualification: MBBS, MD (Dermatology)
Experience: 3 to 5 Years
Consultant Gynaecologist
Qualification: MBBS, MD/DNB
Experience:  10 Years
Consultant Paediatrics
Qualification: MBBS, MD
Experience: 5 years+
Timing: 6 pm to 8 pm
Pharmacist
Qualification: B or D Pharma
Experience: 1 to 3 years
Skills: Medication Dispensing, Patient Handling, Inventory Management
*(Registration mandatory)
Staff Nurse
Qualification: GNM/BSC Nursing
Experience: 1 to 3 years
Skills: Good Communication and Patient care
Associate Digital Marketing Executive
Qualification: Any Bachelor's Degree + Certification from a reputed institute, discipline
Experience: 0 to 2  years
Skills: Sound knowledge of SEO, SEM, SMM, PPC, and other digital marketing activities; excellent grasp of the English language; clear communication
Deputy Manager, Programme
Qualification: MSW (Community Development)
Experience: 5 to 7 years
Skills: Good English communication skill, Good analytical & problem-solving ability

Associate Content Writer
Qualification: Post-graduate or Graduate in English, Mass Communication, Journalism
Experience: 0 – 1 year
Skills: Excellent grasp of English language, clear communication, adaptive writing style
Vacancy: Female Medical Officer
Available Position
01
Job Title
Medical Officer (Female)
Clinic Name
RxDx Medical Centre @ Corporate
Location
Siricila, Telangana
Company Name
RxDx Healthcare
Shift
General
Working Days
Monday – Saturday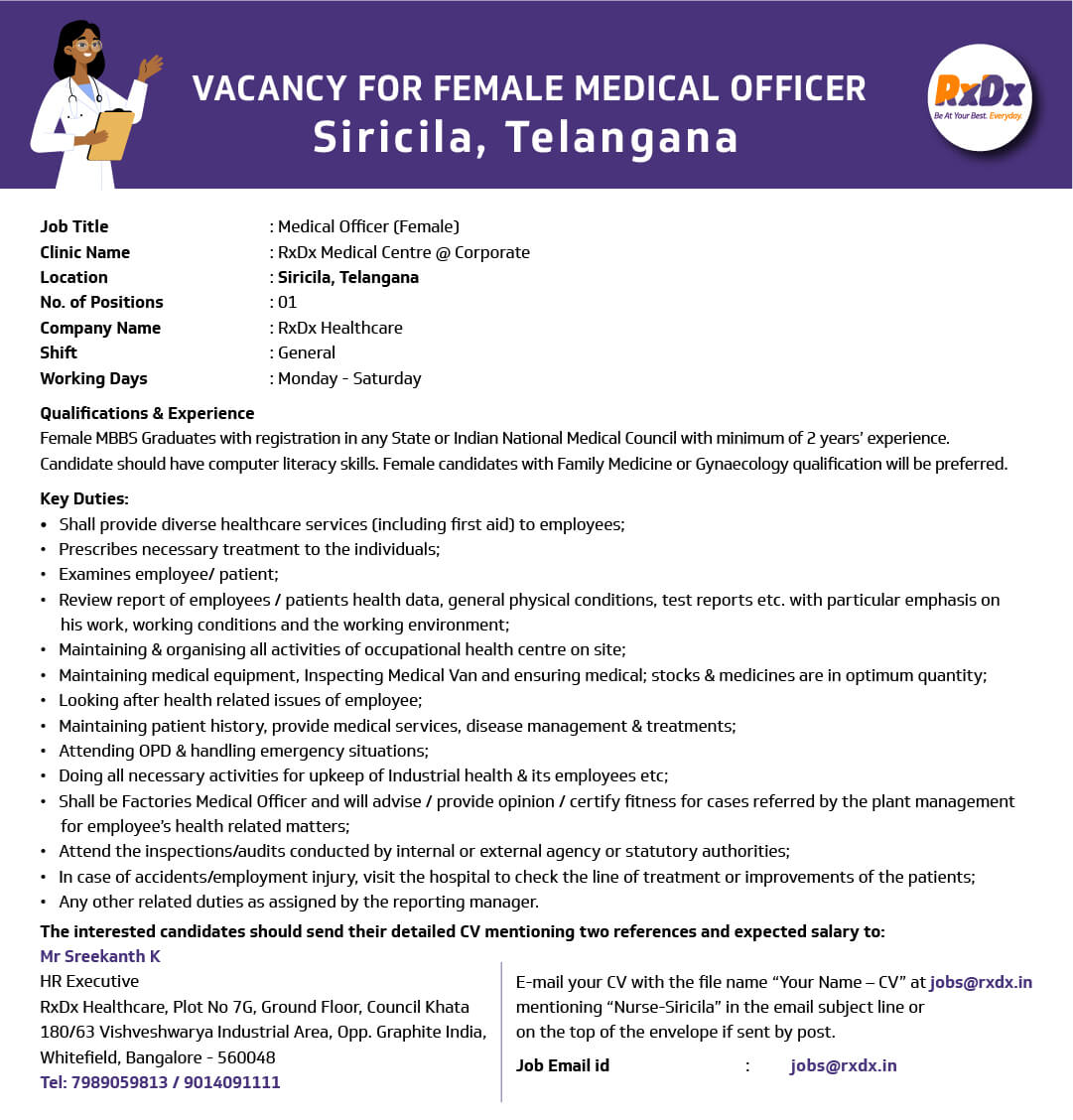 Qualifications & Experience
Female MBBS Graduates with registration in any State or Indian National Medical Council with a minimum of 2 years experience. The candidate should have computer literacy skills. Female candidates with Family Medicine or Gynaecology qualification will be preferred.
Key Duties
Provide diverse healthcare services (including first aid) to employees
Prescribe necessary treatment to the individuals
Examine employee / patient
Review report of employees / patients health data, general physical conditions, test reports etc. with particular emphasis on his work, working conditions and the working environment
Maintain & organise all activities of occupational health centre on-site
Maintain medical equipment, Inspecting Medical Van and ensuring medicine and other supply stock are in optimum quantity
Look after health-related issues of employee
Maintain patient history, provide medical services, disease management & treatments
Attend OPD & handling emergency situations
Do all necessary activities for upkeep of Industrial health & its employees etc
As a Factory Medical Officer, advise / provide opinion / certify fitness for cases referred by the plant management for employee's health-related matters
Attend the inspections/audits conducted by internal or external agency or statutory authorities
In case of accidents/employment injury, visit the hospital to check the line of treatment or improvements of the patients
Any other related duties as assigned by the reporting manager
Interested?
Email your CV in the format as described below.
File name
"Your Name – CV"
Email subject line
"Female Medical Officer – Siricila"
Email ID
jobs@rxdx.in
Please mention two references and expected salary.
You can also mail your application to:
Mr Sreekanth K
HR Executive
RxDx Healthcare, Plot No 7G, Ground Floor, Council Khata
180/63 Vishveshwarya Industrial Area, Opp. Graphite India,
Whitefield, Bangalore – 560048
Tel: 7989059813 / 9014091111