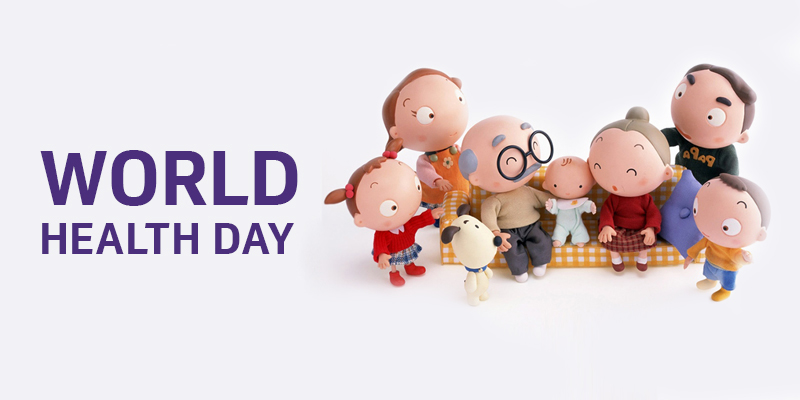 The World Health day is celebrated all around the world on 7th April every year under the aegis of World Health Organization (WHO) to draw the attention of people towards the importance of global health. This year's World Health Day, on 7th April 2019, WHO is focusing on Universal Health Coverage.
What is Universal Health Coverage?
UHC means that every person and community should receive healthcare services without suffering the financial burden. It should include the full range of necessary health services from prevention, promotion to treatment and palliative care. Safeguarding people from the financial consequences as a result of paying for health services from their own pocket can reduce the risk of people being pushed to poverty because of unexpected expenditure on diseases. Primary health care is the best and most cost effective way to provide universal health coverage (UHC) around the world.
What is Primary health care?
Primary health care is an approach to healthcare which is aimed at fulfilling the needs of individuals, families and communities. It addresses comprehensive and interrelated physical, social and mental health and wellbeing.
It provides services for healthcare needs of a whole-person throughout life and not just for treating some specific diseases. Primary health care makes sure people receive complete care ranging from prevention to treatment and rehabilitation as close as to their living environment.
Who is a Primary healthcare provider?
A healthcare professional, who is the first point of contact in the medical system, can be called as Primary healthcare provider. Usually people visit a General practitioner or family physician as a first step when they have any health problem other than an emergency. Primary healthcare system may also include allied health professionals like dentists, nurses and physiotherapists.
What services are provided in Primary healthcare center?
Services can include:
Promotion of healthy practices
Examination and treatment of people with health issues
Educating people about prevention of diseases
Early intervention
Management of ongoing and long-term illnesses
According to WHO, unfortunately, at least half of the world's population does not have full coverage for essential health services. About 100 million people are being pushed to extreme poverty because they have to spend for health care. Despite this, comprehensive PHC is the weakest project in a country's health system which is usually underfunded and understaffed.
PHC explicitly ensures a focus on equity, accessibility and quality of care. PHC core functions include:
Services are offered within people's communities, at a price they can afford. PHC is the entry point into the health care system and the first and regular source of care for most health needs.
PHC delivers a broad spectrum of preventive, promotive, curative and palliative care across the life-course.
People are connected with trusted providers who address their ongoing health needs throughout their lives.
PHC serves as a hub from which people are guided through the health system, referring patients to specialists as needed and effectively following-up to monitor health progress.
Who is your Primary healthcare provider?
Your Primary healthcare doctor is usually your family physician or GP who provides comprehensive medical care. You may see several doctors regularly like a dentist, dietitian or a physiotherapist. They all are primary healthcare providers.
It is important to maintain a good relationship with your primary healthcare provider so that you know where to go and whom to consult when you face any health-related issue.
To maintain a good relationship with your primary healthcare provider:
Always share complete past and present medical history with your doctor
Keep him/ her informed about any changes in your treatment or condition
Plan regular visits and get yourself checked
RxDx Multispeciality Healthcare Clinic is based on the principle of providing primary healthcare to all. It has a team of primary healthcare providers like GPs, physicians, physiotherapists, dentist and nurses who are well experienced to provide you best services in a patient friendly environment. You can approach RxDx for smallest health issue be it fever or cough. Our doctors believe in building a long term relationship with their patients and treat them like a family.
For further details, please contact: 080-49261111, 6745-8111

Download RxDx Smart Healthcare App Now!!!