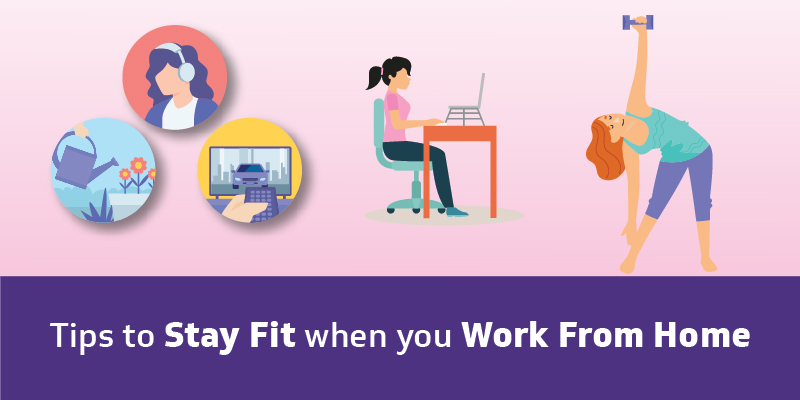 COVID-19 has brought us down to the confinement of our homes. India, whose COVID-19 positive case count is nearing 900 as of today, March 28, 2020, is under lockdown for 21 days. The Government's decision comes in an attempt to contain the outbreak at its second stage and prevent an advance into the third, which would be a community transmission. Human contact must be minimum to stop the pandemic's rapid spread.
As a result, barring the essential service professionals, work from home is the only way for most companies to keep up their business. Stress level is high, physical or mental. We are stuck at home. We miss our regular physical outlets like gyms or long walks, jogging tracks and parks are out of bounds now. Some of us don't even have a proper set up at home to work long office hours in comfort.
The possibility of someone developing musculoskeletal health issues in this situation is pretty likely. However, there are ways to prevent these issues. If followed correctly, these methods can make your work from home situation comfortable and can also smoothen the transition into usual office routine once the COVID-19 lockdown is over. We need to remember that the availability of healthcare professionals is considerably less during this period, and it is imperative to maintain a healthy lifestyle.
Here is a list of do's and don'ts to follow while working from home.
Do's:
Ergonomic set up for work: Everyone must sit on proper chairs like office chairs. Use a pillow to support your low back. Use piles of newspapers or any other platform to raise the height of the monitor to eye level. Use an external keyboard in case if you are working with a laptop. Your keyboard should be at the level of your elbow. Use pillows again to place the keyboard at the elbow or forearm level if you don't have a keyboard tray.
Adequate lighting: Work in a well-lit room. Switch on the lights properly to protect your eyes from the computer screen glare. The room lights should not fall on your face. The screen of your system should neither be too bright nor too low.
Ventilation: Work in a room with adequate ventilation. It's better to open windows and breathe fresh air.
Sunlight: Get adequate sunlight exposure to maintain Vitamin D levels. Sunlight also increases your energy levels. Make sure you get at least 20 to 30 mins of sunlight a day. Use your balcony to get some sunshine. Early morning or late evening sunlight is better.
Frequent breaks: While working continuously, make sure you take regular breaks every 30 to 40 mins. Work breaks will relax the muscles so that muscles don't get tired and stiff.
Exercise: It's essential to maintain fitness and overall health. You need regular exercise for at least 30 minutes a day for 4 to 5 days a week. Use treadmill and stationary cycle if you have any at home. Climbing up and down the stairs is good exercise. Bodyweight exercises like squatting, push-ups, pullups, planks all will be helpful. For aerobic fitness, exercises like jumping jacks, running on place, rope skipping, Zumba dance will help. Yoga is beneficial. Do not forget to do your warm-ups, stretches and cooldowns.
Hobbies: Spend time on your hobbies. You can read books, spend some quality time with your family, learn something new.
Get adequate sleep
Dont's:
Improper posture: Do not bend your spine and neck while working. Continuous bending and working may damage your spine and surrounding structures.
Low seating: Avoid sitting on furniture low in height, such as a sofa or floor for office purposes.
Darkness in the room: Do not work in a room with weak light and little or no ventilation.
Avoid junk food: Follow a healthy diet, including fruits and vegetables. Avoid unnecessary junk food.
Don't be lazy: Do your exercises
Do not lift heavy weight, do strenuous activities, sudden and forceful movements: These activities may injure your spine.
Do not work continuously.
What should you do if you have any musculoskeletal dysfunction?
Try to keep up with your physical activities and use ergonomic equipment to avoid these situations. However, in case it happens, the best treatment would be complete rest and use of cold compression packs. If the pain persists, you can consult a physician through telemedicine.
If you do need to consult with a doctor/physiotherapist:
You can now Consult InstaDoc @ RxDx from the safety, convenience and privacy of your home!
3 Easy methods to consult InstaDoc @ RxDx
Call 080 4926 1111 and schedule an appointment for tele / virtual / remote consultation
Download the mfine app and register using the Hospital Code: RxDx to avail first consultation absolutely free
After the consultation, you will receive a link for downloading your doctor prescription on your registered mobile number
You can order your medicines after you get the prescription right through the mfine app.
Take good care of yourself and help your family do so too. Go back to work recharged and rejuvenated.
Author,
Mr Nithin Krishna K (MPT), Physiotherapist/ Coordinator, RxDx SportsMed, Whitefield, Bengaluru
Edited by,
Anindita Choudhury, Content Writer, RxDx
Inputs from,
Ashwani Sinha, Chief Impact Officer, RxDx
For personalized care and tips on Physiotherapy, please visit RxDx Multispeciality Clinic.
For further details, please contact: 080-49261111, 6745-8111