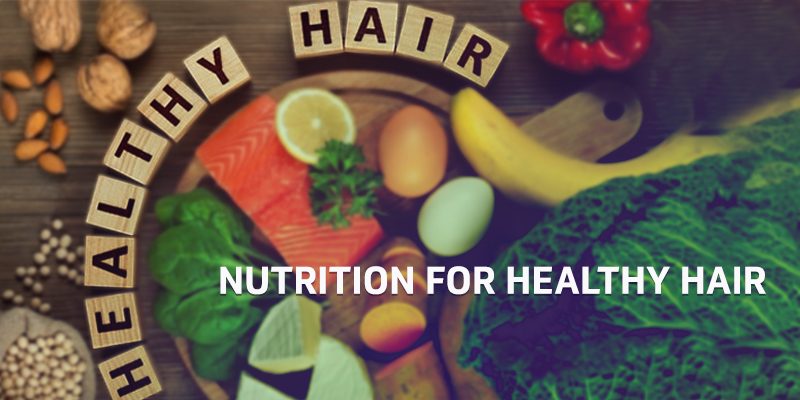 Some people are genetically blessed with beautiful hair, but for most of us who are not that lucky – albeit hair-wise, hair loss is a nightmare!! But there are abundant rays of hope in the food that we eat. Judicious choice of food can enhance hair growth. And it is not just about eating them, there are multiple ways by which you can make nutritious external applications for your golden tresses. Let us look at some of these food.
Nutrients that help in hair growth
1. Biotin And Protein help in hair growth and strength. Food sources are whole grains, liver, eggs, soybean, cranberries, raspberries and yeast
2. Vitamin D stimulates dormant hair follicles, e.g. Shrimp and egg yolks
3. Vitamin E is a potent antioxidant. Sources are avocados, nuts and seeds
4. Vitamin C aids in iron absorption, e.g. berries, spinach, citrus fruits, sweet peppers
5. Iron prevents hair loss. Some common sources are organ meats, beans, spinach, soy products, shrimp, green leafy vegetables
6. Omega 3 Fatty Acids are anti-inflammatory and counteract hair shedding. You get this in plenty in Fatty fish, nuts, avocados, seeds
Natural Foods To Be Eaten
| | | |
| --- | --- | --- |
| Foods | Key Nutrients | How to Eat |
| Mango | Silica, Vitamins A, B6, C & folate | Two medium-sized slices of mango as a snack or after a meal |
| Soybeans | Iron, O3FA, Vitamin B2, magnesium | Aim at least for 75 g per week |
| Eggs | Vitamin A, D, carotenes, lutein, zinc, protein | Boiled or poached eggs four times a week |
| Kelp | Iron, lysine, zinc, vitamin B2 &5, folate, magnesium | 10 grams daily to reach your nutrient quota |
| Figs | Iron, potassium, magnesium, Vitamin A&E | 2 figs a day |
| Flaxseeds | O3FA, vitamin B1, magnesium, phosphorus, selenium | One tablespoon a day either as a snack or sprinkle over meals |
| Pumpkin seeds | Zinc, iron, phosphorous, magnesium, manganese, copper, protein | One tablespoon a day. Combined with flaxseeds |
| Berries | Vitamin C& potassium | Handful a day |
| Avocado | Vitamin E, potassium, O9FA, B vitamins, Folic acid | One medium avocados 2-4 times a week |
| Leafy greens | Vitamins A, C, K &B, potassium, folate | 100 grams portion daily in salad or meal |
| Dark chocolates | Copper | Once a week |
The Nutrition Anthem For Hair Loss
"Salmon for SHINE
Greek yoghurt for GROWTH
Eggs for EXTRA GROWTH
Oysters for OVERALL FULLNESS
Guava for GENERAL BREAKAGE
Iron for HAIR LOSS
Lean poultry for THICKNESS
Sweet potatoes to fight DULL HAIR
Cinnamon for increased CIRCULATION
Spinach for STRENGTHENING BRITTLE HAIR"
Foods That Cause Hair Loss
Swordfish linked to hair loss due to high levels of mercury
Sugar hinders protein absorption that is important for hair growth
Starchy Refined Grains white bread, pasta, cakes, pastries, other refined flours and over-processed foods and starches are converted to sugars which again cause hair thinning
Smoking reduces the blood flow to the scalp causing a reduction in hair growth
Alcohol slows the level of zinc in your body, which is necessary for hair growth
Food-Based Home Remedies To Prevent Grey Hair
Amla/Gooseberry & Curry Leaves help in reversing your hair to black. Eat raw amla or powder or juice. Other foods that prevent greying are Lentils, Chickpea, Liver (organ meat), Spirulina and Chicken
Having black sesame seeds daily promotes regrowth and also increases the production of melanocytes that are responsible for melanin (black pigment of hair)
Triphala powder can bring magnificent change, both in colour and the texture of your hair with the time
Ashwagandha Ayurvedic herb, having anti-ageing effects help to keep your hair as well as body young and vibrant.
Bhringraj makes hair grow. It has a pungent smell but can be used by mixing it with other oils.
Molasses is one of the best foods to reverse grey, and white hair. Molasses contain an abundant amount of calcium, magnesium, potassium and iron all needed to make melanin that produces hair colour.
External Application Of Natural Nutrients For Hair Growth
1. Vitamins Capsules can be used on scalp or be added to the hair mask
Vitamin A encourages healthy production of sebum in the scalp
Vitamin B helps in maintaining the hair colour
Vitamin C helps in circulation and better absorption of nutrients
Vitamin E helps hair follicles remain productive
2. Scalp Massage With Essential Oils
Coconut oil, almond oil and sesame oils contains fatty acids that penetrate inside the hair shaft and reduce protein loss from hair. Improves the health and lustre of hair strands
3. Garlic, Onion &Amp; Ginger Juice enhances blood circulation, increases keratin growth actor and blood flow to cuticles. Prevents hair fall
4. Lemon Juice enhances hair quality and growth
5. FishH Oil filled with proteins and nutrients improve healthy hair from inside.
6. Green Tea Extract contains antioxidants and improves hair density and thickness
7. Viviscal a natural supplement, promotes growth in people with thinning of hair
8. Ginserg increases hair growth by stimulating follicles
9. Aloe Vera soothes scalp and conditions hair and reduces dandruff
Natural Remedies For Hair Growth
1. Curd lactic acid is key to reaping purported benefits
• Curd + Honey or olive oil or Aloe Vera = wonderful hair mask
• Curd + plant-based oils (coconut, argan and almond) = potent moisturiser
• Curd+ fatty ingredients (eggs, mayonnaise, avocados) = reduces frizz
• Curd+ lemon or apple cider vinegar = treats dandruff
2. Eggs are very high in selenium, sulphur, zinc, phosphorus, iodine and protein
• Eggs + Olive oil + Honey = excellent hair mask
3. Licorice Root (1 tsp ground) + saffron (1/4 tsp) + milk 1 cup = soothing anti-dandruff pack
4. Coconut Milk+ crushed black pepper + fenugreek seeds (1 tsp each) = excellent conditioner
5. HoneyBeetroot Juice (1Tbsp) +Yoghurt (2tbsp) + Lemon juice = amazing pack
6. Beetroot Juice (7-8 boiled and ground) + Henna leaves (6-8) = antioxidant growth paste
7. Guava leaves paste = anti-dandruff and hair loss
8. Amla powder + lime juice = Anti premature greying pack
Inputs given by,
Ms. Vidya Narasimhan – Senior Dietitian, RxDx
For personalized care and tips on Hair Nutrition, please visit RxDx Multispeciality Clinic.
For further details, please contact: 080-49261111, 6745-8111