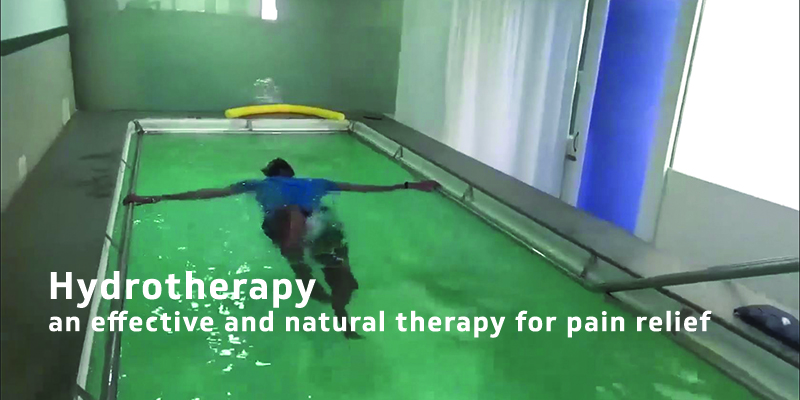 "Hydro" means water and "therapy" means treatment. So, the use of water for the treatment of different conditions like arthritis and related complaints is called Hydrotherapy. It is different from swimming because in hydrotherapy you are made to do special exercises in a warm-water pool which helps getting relief from some painful condition. The water temperature is maintained at 26-30 oC, which is quite warmer than a typical swimming pool.
Usually, hydrotherapy treatment is a part of the hospital's physiotherapy department. A physiotherapist with special training demonstrates how to do the exercises. The intensity and frequency of the exercises are adjusted to help your range of movement or strength, depending on your conditions.
For what conditions is Hydrotherapy used?
Hydrotherapy is beneficial, no matter how many of your joints are affected. It is sometimes recommended if you had joint replacement surgery or if you are suffering from back pain, psoriatic arthritis, spondylitis, and osteoarthritis. It can be used for many other conditions too.
How does Hydrotherapy work?
Hydrotherapy works in different ways to relieve your joints and muscle pain:
The water supports body weight, which helps in relieving pain and increases the range of movement of your joints.
The warmth of the water helps your muscles to relax and reduces the pain in the muscles and joints, helping you to exercise and move better.
The water provides resistance to moving your joints. When you push your arms and legs against the water, it helps in improving your muscle strength.
How effective is Hydrotherapy?
Scientific research has shown that hydrotherapy can improve general fitness and strength in people with various types of arthritis. The exercises are usually customized to your individual needs, so you can start to gradually build up your flexibility and strength.
The extra support that you get from water may make you feel that you can do more exercises than usual. But you have to be careful and follow physiotherapist's instructions properly. You may also feel tired after the therapy because of exercise, but it is quite normal. In general, hydrotherapy is considered as one of the safest treatments for arthritis and back pain.
What are the benefits of Hydrotherapy?
It is a very effective therapy of treating chronic pain.
It helps to loosen tense, tight muscles, while encouraging relaxation. It also increases the metabolic rate and the digestion activity.
Hydrotherapy hydrates body cells while improving skin and muscle tone.
Warm water helps loosen the tight and tense muscles which relaxes your entire body.
It improves the metabolic rate and the digestion making you feel more active.
It hydrates each body cell and improves the tone/ elasticity of skin and muscles.
It boosts the immune system, thus augmenting its efficiency.
It stimulates blood circulation to various organs in the body.
The most important factor to consider is that Hydrotherapy is a completely natural therapy and it does not have any side effect. You must have been advised pain-killers or surgery for chronic knee or back pain. But, trying Hydrotherapy can help you avoid all that and heal you more conservatively.
What else do I need to consider before going for Hydrotherapy?
There are certain conditions where you need to avoid Hydrotherapy. You must inform your physiotherapist if you have:
A wound or skin infection
Stomach upset
Fever
High or low blood pressure
Breathing difficulties
Uncontrolled diabetes
Heart-related issues
Incontinence
Chest infection
Chlorine allergy
Asthma or epilepsy
Your physiotherapist will take your medical history before recommending Hydrotherapy. The decision will be based on the severity of your condition, whether it affects more than one part of your body and your medication.
You may have to share the pool with other people during your treatment, although the exercises are usually tailored to each individual. Sometimes group sessions are conducted for people with similar conditions.
Hydrotherapy at RxDx Samanvay:
Hydrotherapy is a high maintenance facility which is not easily available in all hospitals. People with chronic joint pain, back pain or other issues, usually rely only on physiotherapy, injections or surgery. Hydrotherapy is highly beneficial for those who have multiple joint pain or arthritis. RxDx Samanvay has fully equipped hydrotherapy pool which is temperature-controlled and well maintained. Also, there is a team of physiotherapists who have special training in conducting Hydrotherapy sessions. If you are having chronic pain in your joints and you want to try Hydrotherapy, call RxDx Samanvay and make an appointment!
Compiled By,
Dr Manjari Bansal– Content Writer, RxDx
Inputs given by,
Mr Ashwani Sinha – Chief Impact Officer, RxDx
For further details, please contact: 080-49261111, 6745-8111