Polycystic Ovary Syndrome
PCOS or PCOD
PCOS is one of the most common endocrine disorders that affect women. The numbers may go up to lakhs of women across the globe. Polycystic Ovary Syndrome (PCOS) and Polycystic Ovary Disease (PCOD) are two terms often used interchangeably.
Cause of Polycystic Ovary
The underlying cause of PCOS is so far unknown. Excessive production of androgens (AE) or male hormones from the ovary and insulin resistance (IR) are known to be associated with this disease.
Symptoms and effects of PCO on your body
Both the conditions trigger different symptoms in different women. Patients have reported menstrual irregularity, excessive facial hair, acne, infertility, Metabolic Syndrome.
Patients with PCOS are further predisposed to different conditions like Type 2 Diabetes, Cardiovascular disease, miscarriage or other pregnancy complications, obstructive sleep apnoea, fatty liver, endometrial cancer etc.
Effect of Polycystic Ovary Syndrome on your mental health
The complications mentioned earlier add to the burden faced by these patients. It has a major effect on the social and emotional wellbeing of patients, especially adolescents who think they have a disease. Hence it is important to talk and create awareness about this condition so that women can be forthcoming and discuss their concerns openly with their gynaecologist or physician.
COVID-19 pandemic and PCOS-like symptoms
Ever since the Novel Coronavirus pandemic started, we have observed more and more women experiencing menstrual irregularities and expressing concerns about developing PCOS.
Due to the lockdown people have been spending too much time indoors. This has led to a lack of physical activity, irregular eating and sleeping habits which in turn has led to weight gain, menstrual irregularity and mental issues like anxiety and depression. While these pose a picture quite similar to PCOS, the actual condition needs to be diagnosed through proper methods.
PCOD Procedure Images: Diagnostic & Surgical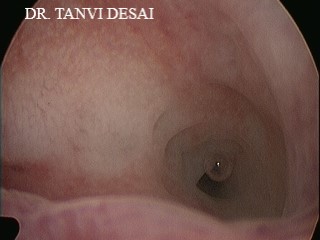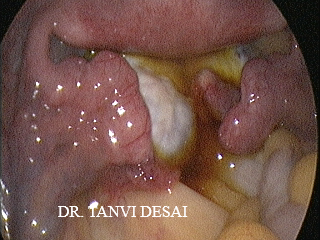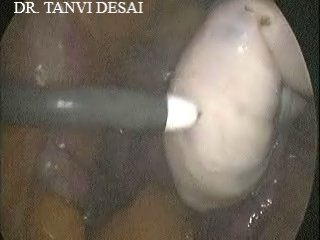 PCOS Diagnosis
Diagnostic criteria for PCOS includes oligo/anovulation, excess androgen activity and polycystic appearance of ovaries on ultrasound.
Polycystic Ovary Disease Treatment
We usually categorise our patients into 3 broad segments:
Adolescents having menstrual irregularities
Young women asking treatment for acne and excessive facial hair
Women in their 30s having fertility issues
Treatment can be broadly aimed at ameliorating effects of excessive androgens, menstrual irregularity and infertility or it can be tailored according to individual needs.
However, one needs to keep in mind that effective management of PCOS requires a sustained multipronged strategy, and a team of experts including gynaecologists, Dermatologists, Nutritionists, Physicians, Psychiatrists and Paediatricians (for adolescent patients). Lifestyle modification in the form of a healthy diet, regular exercise and sleep is the most important part of treatment.
Polycystic Ovary Awareness
PCOS is a colossal emergent public health problem in India. It represents a condition with a risk of developing varied chronic systemic illnesses. Hence it is the need of the hour to spread awareness about PCOS and associated risk factors like Infertility, Type 2 diabetes, Cardiovascular diseases, Obstructive sleep apnoea, fatty liver, endometrial cancer, and others.
It is important to discuss your concerns clearly with your doctor regarding this to be sure if you are really suffering from this condition. Many women are unaware of this and many think of it as a taboo to speak openly about. The complex nature of this condition can have far-reaching effects on the physical health and the mental wellbeing of the patient. PCOS can be treated effectively. Consider an open discussion with your doctor regarding your health as a window of opportunity to avoid the future risks of associated complications..
If you have further concerns, clarify with your doctor at the earliest.
Dr Tanvi Desai explains polycystic ovary disease and its treatment methods in detail in this video.
Written by Dr Tanvi Desai, Consultant OB-GYN and Laparoscopic Surgeon, RxDx Healthcare
Edited by Ms Anindita Choudhury, Communication Specialist, RxDx Healthcare
Wish to consult with Dr Tanvi Desai? Fill the form to request a callback.