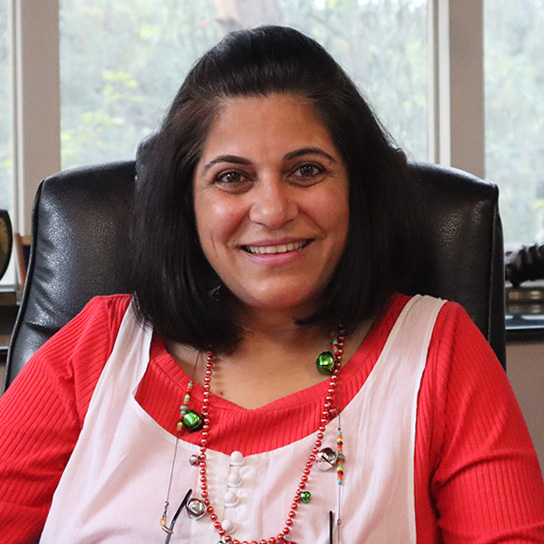 Chief Dreamer & Loop Closer, Telerad Group
Cofounder, Telerad Group, People4people & Telerad Foundation
Dr Sunita Maheshwari is a leading entrepreneur who runs five healthcare and health-tech ventures under the umbrella of The Telerad Group as the Chief Dreamer and Co-Founder.
A US Board Certified Paediatric Cardiologist, Dr Maheshwari earned her MBBS at Osmania Medical College followed by post-graduation at AIIMS, Delhi and Yale University in the US. She was the winner of the 'Young Clinician' Award from the American Heart Association and the 'Best Teacher Award' at Yale University. With over 200 academic presentations and publications to her credit, the doctor runs an e-teaching program for PGs in Paediatric Cardiology and is an inspirational speaker having delivered over 200 lectures, including several TEDx talks.
Dr Maheshwari received the 2014's 'Amazing Indian' Award from Times Now and was honoured as a "Woman of Worth" by Outlook Business WOW 2019. Nominated as one of the Top 20 women achievers in medicine in India, she is a Mentor in Residence for the Sustainable Health Initiative of the Yale Institute for Global Health. At present, Dr Maheshwari serves as the Vice President of the Paediatric Cardiac Society of India.
Dr Maheshwari is an active contributor in the Indian social arena where she runs 2 trust funds, namely the P4P and the Telerad Foundation. People4people (P4P) has installed over 520 playgrounds in government schools and the Telerad Foundation provides teleradiology and telemedicine services to impoverished areas in Asia that do not have access to high-quality medical care. As part of their Board, Dr Maheshwari chairs the CSR committees of both HDFC bank and GSK pharma in India.
Besides P4P and TF, The Telerad Group houses Teleradiology Solutions, a company which collaborates with over 120 hospitals across the globe including ivy leagues such as the University of Pennsylvania and Mass General Hospital of the Harvard system, Telerad Tech, which builds AI-enabled telehealth software, RxDx Healthcare, RxDx Healthcare, the phygital multispeciality chain with a country-wide online presence in India and 19 brick & mortar primary care clinics, Image Core lab, a clinical trials radiology core lab, and Healtheminds, a phygital mental health counselling venture.