COVID Vaccination Centre @ RxDx Healthcare

Precautionary Dose for 18 Plus 
Covishield and Covaxin are available with multiple doses in each vial. As per Government Guidelines, we must open these vials only after 10 beneficiaries have been confirmed for one particular slot, to curb any potential vaccine wastage.

IMPORTANT!
We can open COVISHIELD and COVAXIN vials only if 10 beneficiaries have been confirmed for one particular slot. This action will help curb any vaccine wastage.
TAT Attention!
Response Time to FORMs:
Within 6 hours on best effort basis
NOTE
If your inquiry is urgent, please call +91 901 409 1111.
You may also reach us through WhatsApp Chat between
8 am – 8 pm at +91 90199 61402 or email us on info@rxdx.in
Request for Precautionary Dose for 60 plus Population Group
BBV154 novel adenovirus vectored
Intranasal COVID-19 vaccine
Manufactured by Bharat Biotech
EUA for 18 years and above
Administration: Total 8 drops (0.5 mL per dose), 4 drops into each nostril
Frequency: 2 dose series, 4 weeks (28 days) interval
Benefits
Non-invasive
Needle-free, easy to administer, no need for trained medic/paramedic
High compliance across all age groups
Stimulates a broad immune response (IgG, mucosal IgA, and T cell)
Takes advantage of the organised immune system of the nasal mucosa – essential for blocking both infection and transmission of COVID-19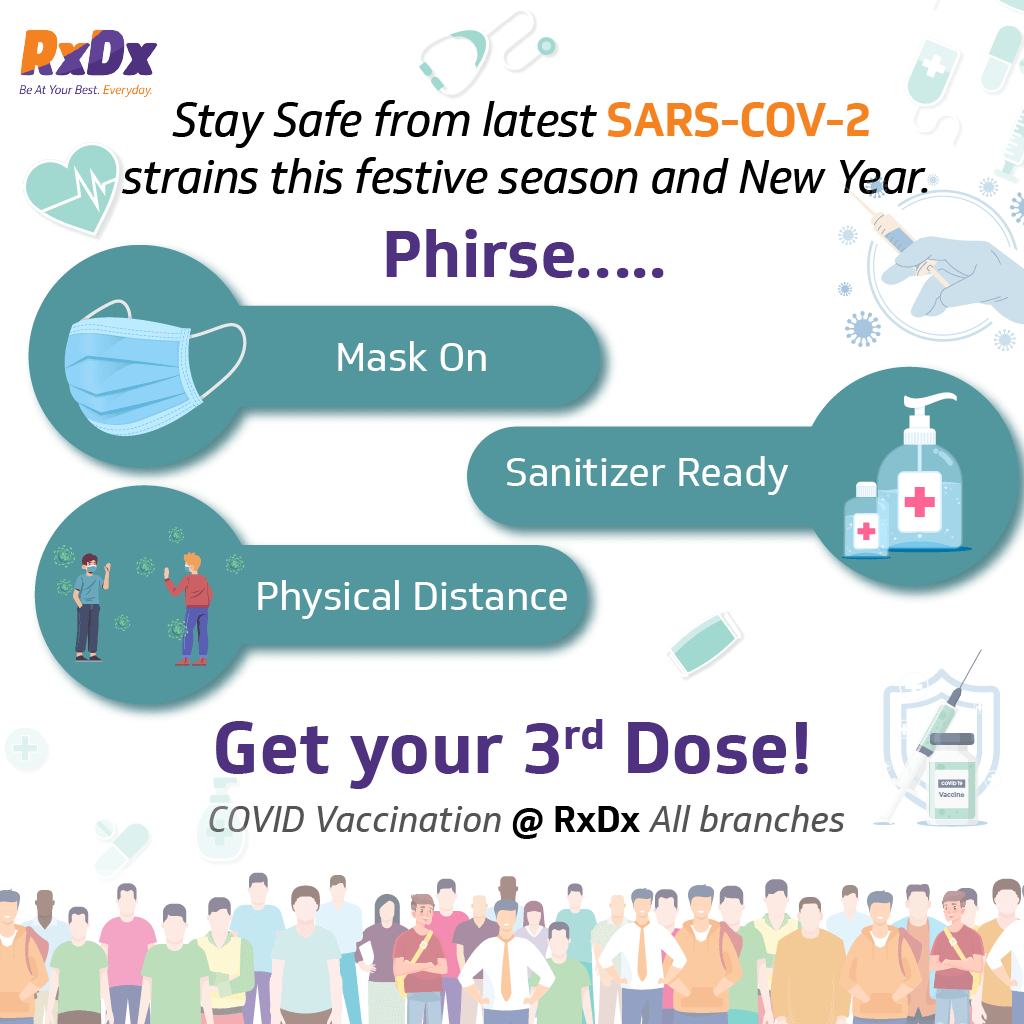 Who should avoid iNCOVACC?
Those who had a severe allergic reaction to any ingredients of the vaccine
Those who had a severe allergic reaction after a previous dose of this vaccine
Those who have an acute infection or fever at present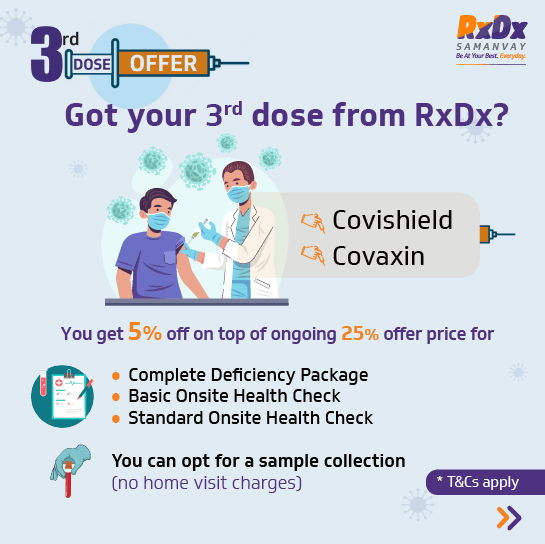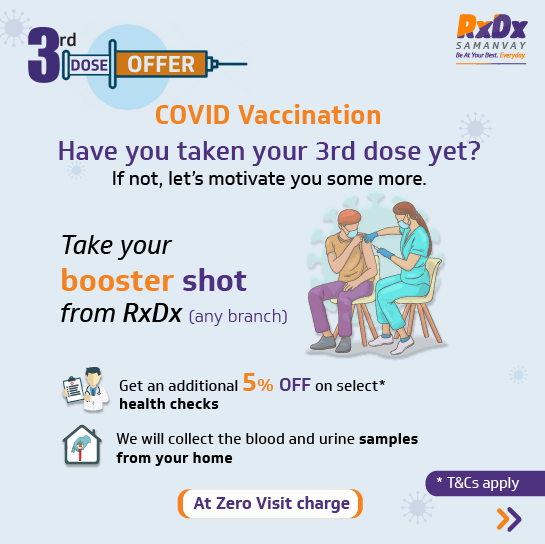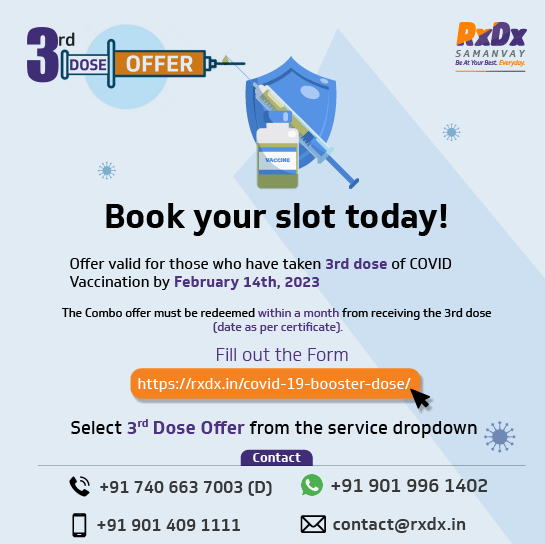 Precautionary Dose of COVID Vaccination: FAQ

Who is eligible to receive the precaution dose in India?
All adults above 18 years of age can receive the 3rd dose if they have completed 9 months after the 2nd dose.
What's the minimum gap between 2-dose schedule and booster dose?
Which vaccines are available at RxDx?
Covishield and Covaxin are available at RxDx for 3rd dose administration.
Do you get to choose a different vaccine for your 3rd shot?
No. GOI clarifies that mix-and-match is not allowed as of now. If you have taken COVISHIELD as your 2nd dose, your 3rd shot will be of the same type. If you received COVAXIN, same will be administered as your booster.
How can you get your 3rd dose at RxDx?
If you are eligible, fill the form / whatsApp / call RxDx for your booster or precaution dose. We will call you back with details.
Why should you consider taking the Booster Dose?
Healthcare workers are in regular and often prolonged exposure with patients.
The aged group often have comorbidities, compromised or low immunity.
Hence, these two groups are considered at risk population who need to be protected from the variants of SARS-Cov-2 as early as possible.
Does Booster dose prevent Omicron?
Vaccinations and precautionary doses may not give you 100% prevention against the virus, but they can reduce the severity of symptoms to a large extent. Your overall health is impacted less, and you can recover sooner.
Is Booster dose free?
In Government Centres, yes.
Charges apply in Private Hospitals and Pre-Hospital Clinics.
Branch wise Time-Table:
COVID Vaccination Centre RxDx Healthcare (wef. till March 14, 2022, Monday)
60 Plus/FLW/HCW

Branch Name
COWIN Site Name
Pin Code
Days
COVID Vaccination Slot
RxDx Whitefield
RxDx Whitefield S1 P3
560066
Daily
2:00 pm – 5:00 pm
RxDx Kadugodi
RxDx Kadugodi P3
560067
Mon-Sat
1:00 pm –  3:00 pm
RxDx CHANDY
RxDx Siddapura P3
560066

Mon-Sat

2:00 pm –  3:00 pm
RxDx SAMANVAY, Malleswaram
RxDx SAMANVAY
560003

Mon-Sat

10:00 am  –   5:00 pm
IMPORTANT:
As per Government Guidelines, COVISHIELD & COVAXIN vials will be opened ONLY WHEN 10 beneficiaries are confirmed. This will help curb vaccine wastage.
We request your cooperation
Ways to reach us:
Email: info@rxdx.in
WhatsApp: +91 901 996 1402
Phone: + 91 901 409 1111
Contact us Form
*Vaccination is subject to availability of stock.
#For Vaccination Schedule on Govt. Holidays, please call our Patient Experience Centre +91 901 409 1111 or WhatsApp on 
+91 901 996 1402
Vaccination Pricing
Pricing:
S. No

Vaccine Name#

1
COVISHIELD
386.25
2
COVAXIN
386.25
* Prices are subject to change. #Vaccination is subject to stock availability
COWIN Portal: If you are registering on the portal from your browser:
Visit www.cowin.gov.in
Click Register/Sign In yourself
Enter your mobile number
Enter the OTP received via SMS
Select the photo ID proof you wish to submit
Enter your demographic details (best to keep it same as the Photo ID)
You can add up to 4 members using one mobile number
Select Schedule Now
Select Schedule Appointment
You will be asked to enter:
Pin code
Click search to look for Vaccination Centres near you
As of now, due to shortage of vaccine, you may not see any CVC near you. Try searching with pin codes around you or wait for a few days.
Once you are registered, you can visit the portal again to schedule your appointment when possible.
Aarogya Setu Portal: If you wish to register through the Aarogya Setu app
Download the Aarogya Setu App from Play Store or App Store
Complete the installation and registration process
Open the app and click on the Vaccination icon
Enter your mobile number
Continue as described for www.cowin.gov.in
| | |
| --- | --- |
| For Whitefield Branch, type 560066 and press enter | Scroll down the Centre Name window to select and click on RxDx Whitefield S1 P3 |
| For Siddapura branch, type 560066 and press enter | Scroll down the Centre Name window to select and click on RxDx Siddapura P3 |
| For Kadugodi branch, type 560067 and press enter | Scroll down the Centre Name window to select and click on RxDx Kadugodi P3 |
| For Malleswaram branch, type 560003 and press enter | Scroll down the Centre Name window to select and click on RxDx Samanvay |
Choose your preferred date and time as per slot availability
Click Book to complete your registration Process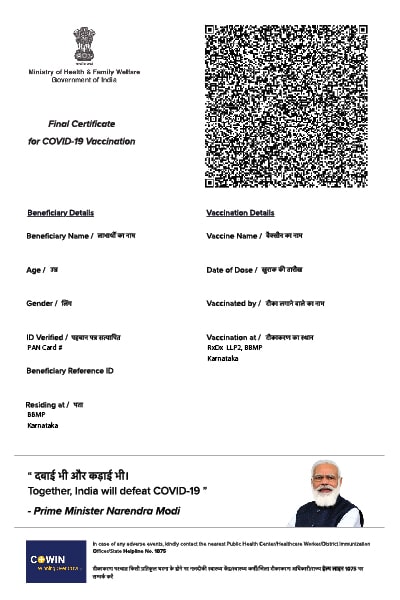 Please verify your certificate before leaving the RxDx Covid Vaccination Centre. Speak with any RxDx Staff if you haven't received the message for downloading your vaccination certificate.
Steps to download the Certificate without beneficiary ID
Go to: www.Cowin.gov.in
Click on Register Yourself
Update Registered Phone number
Click on Get OTP
Update OTP and click Verify
Your details will appear
Click on CERTIFICATE box to download certificate
Didn't get the Vaccination Certificate?
While you are in the vaccination centre at RxDx, please CONTACT Mr Prasun Dutta, RxDx, 9886512567
Or else, share the following details with us URGENTLY:
Name of the Beneficiary:
Date of Vaccination:
Mobile number (which was used for vaccination):
Please send above details via any ONE of these methods ONLY:
7G, Kundalahalli Main Rd, Whitefield, EPIP Zone, Brookefield, Bengaluru, Karnataka 560048
Tel  : +91 901 409 1111
Site No 34/1 B, First Floor
Above Dominos Pizza
Opposite Sai Baba Ashram Kadugodi,
Bengaluru – 560067
Tel  :  +91 901 409 1111
66/1, Miraya Rose,
B-Wing 1st Floor, Varthur,
Siddapura Bengaluru – 560066
Tel  :  +91 901 409 1111
RxDx SAMANVAY, Malleswaram
#29, 11th Main Road
Near Cluny Convent High School
Malleswaram West
Bengaluru – 560003
740 663 7003 (D)
Tel  :  +91 901 409 1111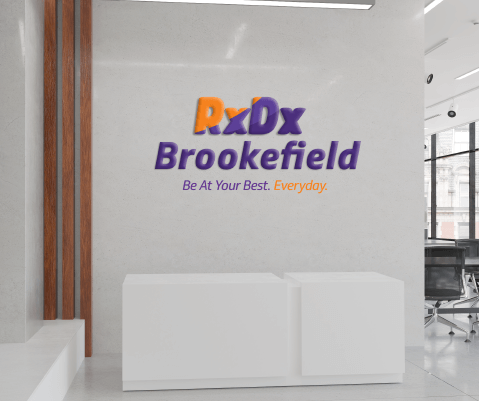 Sai Dhanvantari Clinic (Satguna Sangraha Trust) 217-A, Near Ryan International School, Kundalahalli, Bangalore 560037
Tel  :  +91 901 409 1111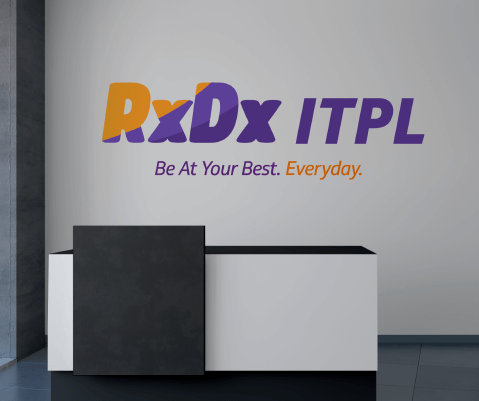 Unit No, Concourse, INTERNATIONAL TECH PARK, S-02, ITPL Main Rd, Whitefield, Pattandur Agrahara, Whitefield, Bengaluru, Karnataka 560066
Tel  :  +91 901 409 1111
Ground Floor, NCR Complex
77/1 Sarjapur Road, Khata No 39
Opposite Canara Bank, Dommasandra Circle
Bengaluru, Karnataka 562125
Tel  :  +91 901 409 1111