Antibody Test
(SARS-CoV2-IgG) to detect COVID-19
An accurate, easy and simple blood test to know if you had a novel coronavirus infection recently

Omicron, Vaccinations & Antibody Test
Antibody tests can reveal our antibody levels against a contracted infection or after a vaccination against it. India's accelerated rate of vaccination has given a large chunk of population a fighting chance to reduce the threat of pandemic to a large extent. Over 125 crore doses have been administered in our country. Still, it's a long journey ahead.
Then comes the news of Omicron, the latest SARS-Cov-2 variant of concern, which is reportedly more transmissible if not deadlier than its predecessors.
Schools are reinitiating offline classes, workplaces are calling people back to offices, homes are opening to hired help. Now, more than ever, we must follow due diligence.
How do we continue to protect our loved ones against the variants?
We need to get vaccinated as soon as possible if not done yet. Completed vaccine schedule means our immune system can protect us from symptom severities or long-term complications.
We must do antibody tests if we have already been vaccinated or recovered from COVID-19. Knowing our antibody levels will not only boost our confidence but also help our doctors advise if it's time to get booster doses.
Authorities in India are contemplating the approval of booster doses. The vaccines available right now can give us protection even against the new variants to a reasonable extent. Research is being conducted by manufacturers to modify the vaccines and combat the newest mutations.
GOI is renewing efforts on diagnostics, genomic surveillance, evidence collection on viral and epidemiologic characteristics, and therapeutics development.
As Karnataka and other states being reporting cases, the healthcare community cautions everybody to practice the Mask-Physical distance-Hand Hygiene protocol even more stringently than before.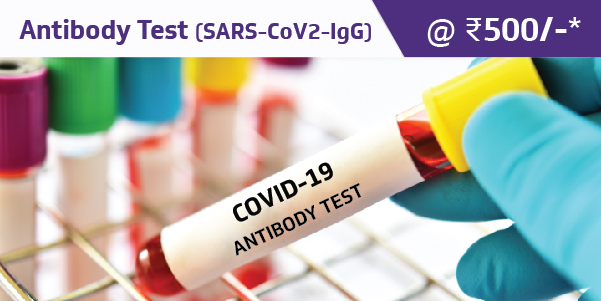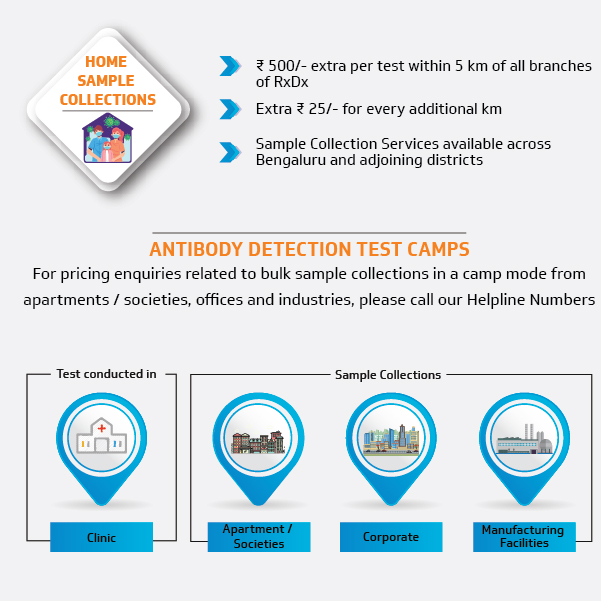 Book Online: COVID-19 Test in Clinic | Home Visit
TAT Attention!
Response Time to FORMs:
Within 6 hours on best effort basis
NOTE
If your inquiry is urgent, please call +91 901 409 1111.
You may also reach us through WhatsApp Chat between
8 am – 8 pm at +91 90199 61402 or email us on info@rxdx.in
Antibody Test (SARS-CoV2-IgG) for COVID-19 checks for antibodies in your blood.
A human body produces antibodies in blood when it fights an infectious disease like COVID-19. A similar instance is when you take a particular vaccine shot against flu. This is how immunity is built up against a virus.
The Antibody Test (SARS-CoV2-IgG) for COVID-19 has been approved by the Indian Council of Medical Research (ICMR) (advisory dated June 23, 2020).
If you have been vaccinated against SARS-Cov-2, or
If there's a possibility you have come into contact with a COVID-19 positive patient recently, or
If you've tested positive for COVID-19 and have fully recovered,
You can get tested to check your antibody levels.
Antibody test (SARS-CoV2-IgG) is meant for detecting past infections from COVID-19. However, it is not the test of choice for a current infection from the novel coronavirus. To find out if you have a COVID-19 infection at present, get an antigen test or an RT-PCR test.
When you should get a COVID-19 antibody test (SARS-CoV2-IgG)?
Ideally, you can get an antibody test done 2 weeks after an infection or vaccination. SARS-CoV2-IgG is the antibody tested at RxDx. It can take 1-3 weeks to develop enough antibodies to be detected in the blood. Therefore it is important that you don't get yourself tested too soon. The strength of antibody response depends on several factors, including age, nutritional status, severity of disease, and certain medications or infections like HIV that suppress the immune system.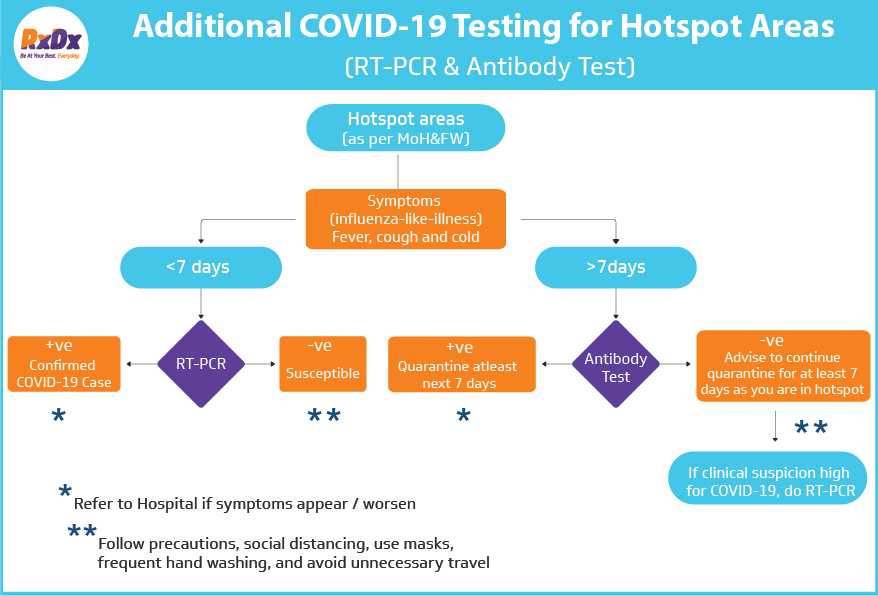 Quick facts about Antibody Test (SARS-CoV2-IgG) for COVID-19
Fast
Antibody analysis can be done in 18 minutes. The report can be generated on the same day.
Easy
The test required a small quantity of blood sample.
Simple Process
We draw the blood from a vein in your arm. The sample is tested in our labs.
Sample Collections
We can collect your sample in our labs, or from your home, office, factory, as per your convenience.
Preparations
We need you to keep your mask on during the sample collection. Our Technician is also required to wear protective gear.
How much does the COVID-19 Antibody Test (SARS-CoV2-IgG) Costs at RxDx?
The cost of antibody test is ₹500/-* (*₹ 1,200 at RxDx SAMANVAY, Malleswaram, North Bengaluru) if samples are collected at our branch clinics in Whitefield, Kadugodi, Siddapura and Malleswaram. A home visit for the same costs ₹400/- extra within a 5 km radius of our branches.
RxDx is organizing camps all over Bengaluru and adjoining districts for Antibody Tests. Apartments, societies, offices, corporates, factories or industries can contact our helpline numbers or leave their details in the Request for Info Forms to receive a call back from our representatives. Camp costs are as follows:
Antibody Tests for COVID-19 (Onsite Drives/Camp) in and around Bengaluru
RxDx Charges (₹)
RxDx SAMANVAY
Charges (₹)
For a batch of 1 to 5 persons
900

1500

For a batch of 6 to 10 persons
850
1300
For a batch of 11 to 24 persons
800

1100

For a batch of 25 to 49 persons
750
900
For a batch of 50 and above persons
700

700
COVID Sample Collection and Reporting Schedule @ RxDx (wef March 23, 2022)


(Note: Rapid Antigen Test Report in 4 Hrs and Covid Antibody Test Report within 24 Hrs)
Antibody Test (SARS-CoV2-IgG) vs Antigen Test
The COVID-19 antigen test detects certain proteins that are a part of the virus. Using a nasal or throat swab to get a fluid sample, antigen tests can produce results much faster than the RT-PCR Test. These tests are also less expensive than molecular tests. As a result, some experts consider antigen tests to be a more practical approach when a large number of people need to be tested. Antigen tests aren't as sensitive as molecular tests are. A positive antigen test result is considered very accurate, but there's an increased chance of false negatives, which means it is possible to be infected with the virus but still produce a negative antigen test result.
Antibody Test (SARS-CoV2-IgG)
The body immune system produces antibodies or proteins that are critical for fighting any pathogen like the coronavirus. IgM Antibodies against COVID-19 can be observed after a median of 10-13 days since the onset of symptoms while it may take about 12-14 days for IgG antibodies to appear.
IgM levels increase in the beginning and then decline in a few weeks. IgG seropositivity can rise and then fall, and gradually stabilise to remain so for a long time. Also, the body stores information on the IgG and the relevant virus so the antibodies can be produced fast if another infection occurs in future. The chronological order of IgM and IgG antibody appearance is variable but both types can be detected simultaneously for a certain time.
Few important points to consider about the Antibody Test (SARS-CoV2-IgG) results
What should you do if you test positive for COVID-19 antibodies?
Don't let your guard down if your antibodies test results are positive. Continue to protect yourself and others since you could get infected with the virus again. Scientists are working to understand this. If you work in a job where you wear personal protective equipment (PPE), continue wearing PPE
It is quite possible that some antibody tests can mistake IgM and IgG antibodies from other coronaviruses, such as the common cold strains, for SARS-CoV-2 antibodies
If your antibody test result for SARS-CoV-2 is positive, it probably means you were infected by the virus recently. However, it is also possible to get a "false positive" if you have antibodies but had a different kind of coronavirus
A positive antibody result might mean you have some immunity to the coronavirus. But it certainly is not your immunity passport. In fact, it's premature to know how strong your antibodies are and how long they can give you protection against COVID-19
Your test results for antibodies may turn out to be positive even if you have never had symptoms of COVID-19. This usually happens if you had an infection without symptoms, which is called asymptomatic infection
What does it mean if you test negative for COVID-19 antibodies?
A negative result might indicate that either you have not come into contact with the novel coronavirus or you have not had it long enough to make antibodies against COVID-19. You could also have been exposed and not have antibodies. This is called a false negative.
How do we get antibodies in our body?
Antigens trigger the production of antibodies, also called immunoglobulins. Five types of immunoglobulins are produced in our body for different purposes. IgM and IgG are the major players in detection of COVID infection.
How antibody test is done for COVID-19?
Blood sample is drawn from a vein in your arm and thereafter, the sample is tested in a lab using advanced machines. It takes just 18 minutes for the test to be performed. Report is usually generated on the same day.
How can antibody test help in studying Herd Immunity?
The possibility of COVID-19 infection manifesting as asymptomatic in patients make it more difficult to detect or trace spread pattern. Hence, states in India have been carrying out serology surveys. A sero-prevalence of 60-70% could head towards herd immunity assuming presence of antibodies equalled to protection against the SARS-Cov-2 for a while.
Dr Lalit Kant, former head of epidemiology and infectious disease at Indian Council of Medical Research (ICMR), advised, "A sero survey is necessary to find out the true burden of the infection in the city or state. More importantly it helps identify the number of asymptomatic people who had the disease and recovered from it. Such people, in most cases, are not even aware that they are infected." – Hindustan Times
Know More
How antibody test is done for COVID-19?
Antigens trigger the production of antibodies, also called immunoglobulins. Five types of immunoglobulins are produced in our body for different purposes. IgM and IgG are the major players in detection of COVID infection.
What makes some people more vulnerable to COVID?
Latest research at the
La Jolla Institute for Immunology
reveals the possible reason for a poor disease outcome to be a weak or uncoordinated immunity. The study talks about the potential role of antibodies and T cells in fighting off a COVID infection and suggests the necessity of a multi-layered, viral specific immune response to control the acute phase of COVID and reduce symptom severity.
How an antibody test works?
An antibody test fast checks for antibodies in your blood. Your body makes antibodies when you get an infection. They help fight the infection. If you have coronavirus antibodies in your blood, it's likely you've had the virus before. It's not known if having antibodies stops you getting the virus again
Why Antibody test is important for COVID-19?
This test offers a way for a person to know if they have had COVID-19 in the recent past.
How is the immune system in older people related to COVID severity?
As per the study conducted at
La Jolla Institute for Immunology
, in the elderly, the declining T cell reservoir activated against a virus makes their immune response less coordinated, hence factoring in drastic increase of susceptibility to disease severity or fatal outcomes.
What are T cells?
These are types of lymphocytes produced predominantly in the Thymus gland. They act like a hunting group against any foreign body invading our system.
T cells- named after the organ of origin, focus on specific pathogens, and play more than one role in fighting off an infection. Some types like helper T cells stimulate B cells to produce antibodies while other types produce cytokines that in turn, further stimulate the immune system.