Elderly healthcare
Ageing years can worry the minds of individuals and their children alike. The primary caregivers of our lives need our attention for their well-being. Not just our parents, but any elderly relative like a loving aunt, an uncle who helped raise us, or a grandparent who just made it to a century.
Health, our least valued asset, is one of the greatest concerns of our retirement phase. It can also be the greatest gift should we ensure good care for it. Let us present you with health care packages tailored for your geriatric relatives.
Age Well Annual Health Care Packages for the Elderly & Senior Citizens
Four packages have been planned for men and women who are above 60 years of age. The programmes kick-off with comprehensive health check-ups to establish a health baseline. Based on the reports, the family physician advises on further plan. The doctor visits once in every 3 months over the year.
Nurses supervise the beneficiary's programme and visit them every month. Tests are planned at the end of 6 months to monitor health progress.
The validity of each package is 1 year from the date of enrolment and renewable after 1 year. Renewal is also kicked-off with a Comprehensive Health Check-up to establish a new baseline.
AEF-D Annual Package (Elderly Female, Diabetic)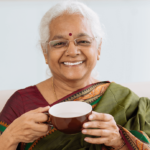 Components
Count and Frequency
Comprehensive Health Check [Female]
1 (at the time of enrolment)
Doctor Home Visits
4 (once every 3 months)
Nurse Home Visits
12 (once every month)
GRBS
FBS + PPBS
1 (at the end of 6 months from the date of enrolment)
HBA1c
Serum Creatinine
Lipid Profile
Vitamin B12
Vitamin D
LFT
Total Package Cost (MRP)
₹ 30,267
After 25% Discount
₹ 22,700
AEM-D Annual Package (Elderly Male, Diabetic)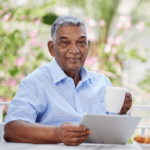 Components
Count and Frequency
Comprehensive Health Check [Male]
1 (at the time of enrolment)
Doctor Home Visits
4 (once every 3 months)
Nurse Home Visits
12 (once every month)
GRBS
FBS + PPBS
1 (at the end of 6 months from the date of enrolment)
HBA1c
Serum Creatinine
Lipid Profile
Vitamin B12
Vitamin D
LFT
Total Package Cost (MRP)
₹ 29,200
After 25% Discount
₹ 21,900
AEF-ND Annual Package (Elderly Female, Non-Diabetic)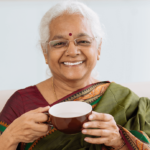 Components
Count and Frequency
Comprehensive Health Check [Female]
1 (at the time of enrolment)
Doctor Home Visits
3 (once every 4 months)
4th, 8th & 12th months of enrolment
Nurse Home Visits
6 (once every 2 months)
2nd, 4th, 6th, 8th, 10th & 12th months of enrolment
GRBS
FBS + PPBS
1 (at the end of 6 months from the date of enrolment)
HBA1c
Serum Creatinine
Lipid Profile
Vitamin B12
Vitamin D
LFT
Total Package Cost (MRP)
₹ 24,400
After 25% Discount
₹ 18,300
AEM-ND Annual Package (Elderly Male, Non-Diabetic)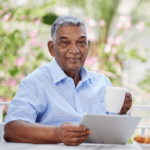 Components
Count and Frequency
Comprehensive Health Check [Male]
1 (at the time of enrolment)
Doctor Home Visits
3 (once every 4 months)
4th, 8th & 12th months of enrolment
Nurse Home Visits
6 (once every 2 months)
2nd, 4th, 6th, 8th, 10th & 12th months of enrolment
GRBS
FBS + PPBS
1 (at the end of 6 months from the date of enrolment)
HBA1c
Serum Creatinine
Lipid Profile
Vitamin B12
Vitamin D
LFT
Total Package Cost (MRP)
₹ 23,333
After 25% Discount
 ₹ 17,500