Doorstep COVID-19 Vaccination Camp
#LargestVaccineDrive

Doorstep COVID-19 Vaccination Camp
#LargestVaccineDrive
RxDx COVID Vaccination Camp
Apartment Complexes
Residential Societies
Corporate Workplaces
Manufacturing Facilities
In April 2021, healthcare organisations got the nod to set up onsite camps for residential complexes, corporate workplaces and manufacturing facilities. A considerably bigger group could receive their shots in their convenient settings.
RxDx conducted a number of COVID Vaccination camps in phase 2 of vaccination.
We will re-start corporate and apartment Vaccination Camps as soon as stock becomes available. Please fill the online form "Enquiry for COVID Vaccination Camp in Corporates / Societies" on this page to receive proposal and alert and regarding Vaccination Camps.
Responsibilities of RxDx as CVC
Provide Vaccines
Vaccinator/Nurse
Verifier
Cold Chain
AEFI Kit
Support Services
Doctor on Call
ALS Ambulance on standby
Enquiry for COVID Vaccination Camp in Corporates / Societies
Note: This is a request for camp enquiry, not a confirmation of service. The process to organise camps can only be initiated after confirmation of stock availability from the manufacturers. Thank you for your cooperation.
TAT Attention!
Response Time to FORMs:
Within 6 hours on best effort basis
NOTE
If your inquiry is urgent, please call +91 901 409 1111.
You may also reach us through WhatsApp Chat between
8 am – 8 pm at +91 90199 61402 or email us on info@rxdx.in
Responsibilities of the Host
Mobilise eligible population group
Provide three rooms, one each for :
Conducting Vaccination
Observation Area
Waiting Area
Wifi facility and electricity facility
Tables, chairs for medical team and beneficiaries
Single Point of Contact (SPOC)
Spot for our Poster/Standee/Banner
COVID Vaccination Cost (ALL INCLUSIVE) in Camp Mode
Pricing:
S. No

Vaccine Name#

1
COVISHIELD
386.25
2
COVAXIN
386.25
* Prices are subject to change. #Vaccination is subject to stock availability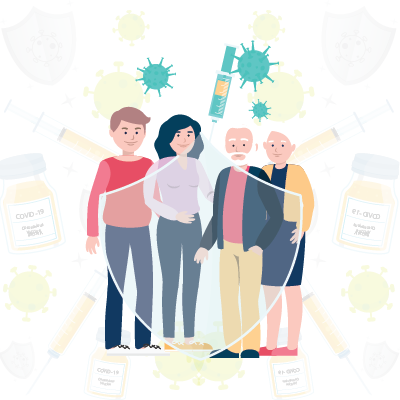 Vaccination is subject to availability of stock
The quoted price is subject to change
Minimum guarantee of 100 beneficiaries in 4 hours session
Vials will only be opened when minimum 10 beneficiaries are present to receive the vaccine
Payment is accepted 100% in advance
RxDx is the COVID Vaccination Centre of your choice
Our team has already conducted vaccination camps in Bengaluru societies and corporate workplaces in April 2021. Our dedicated COVID Team has delivered:
Administered 20,000 plus vaccine doses
Conducted over 200,000 COVID tests
Over 150,000 teleconsultations
25,000 home visit (Bengaluru) services
2000 COVID patients in home isolation across India
We have ample experience in conducting COVID test camps and other onsite services.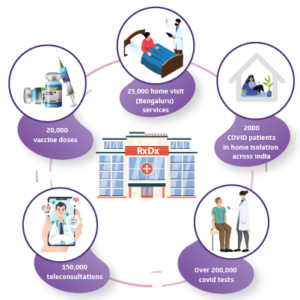 View your doctor's schedule and fix an appointment
Find out highly skilled and well qualified specialists work schedule and fix an appointment on convenient time